Season Greeting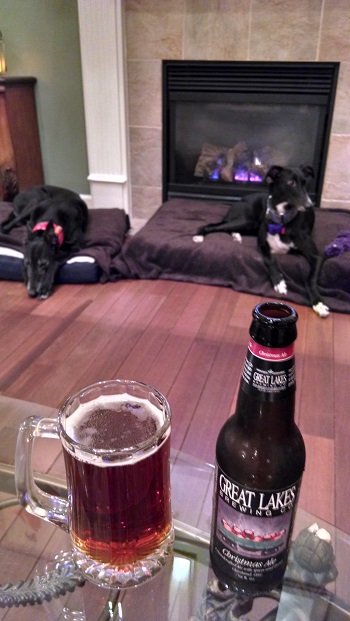 Brewery
and
Country
of Origin:
Great Lakes Brewing Company
of
2516 Market Avenue, Cleveland, Ohio 44113, USA
Date Reviewed: 2-28-14
It should be fairly obvious to most that a
Christmas Ale/winter warmer
style brew is a seasonal offering. And as we are approaching the end of winter, new types of seasonal beer will be coming out, reflecting springtime's rejuvination, rebirth, everything's blooming... all that crap. We'll go more into spring beers more when we get around to reviewing them but for now, we are busy preparing for yet another impending winter storm named Titan (we're not a fan of these winter storm names; they should stick to naming only Hurricanes). But while two inches of snow below the Mason-Dixon line evidently merits a front page headline on CNN.com, there exists a part of
the country
where a routine storm dumping 18+" of snow in a night is just that. Routine. A storm that will cause approximately zero schools and businesses to close. And by storm, we mean weather pattern that doesn't span 700 miles and travels across the continent, wreaking havoc that delays 1200+ flights and causes 14 hour long traffic jams. That wonderful region, is known as the
Great Lakes
. And the weather pattern is known as
Lake Effect Snow
. We went into this meteorological phenomenon a bit during a review of
Saratoga's flagship brew
and if you're too drunk/lazy to click the link and read about it, well, you're probably too drunk or lazy to read about it here. So we won't bother you about it. What's funny though, is that because the media and government agencies are referring to this season's winter storms as named storms, they've been getting more attention. A lot more. Polar Vortex. Atlanta Traffic Jams. Midwest Interstate Pile-ups. All because the weather outside is fairly seasonal. In fact, few significant records have been broken weather wise, but this winter, literally storming into March, has felt like quite a struggle to the "First World Problems" sort. We will admit that it was a bit of a bummer that Punxsutawney Phil predicted more of the frozen stuff, but really, spring shouldn't even begin to come out for another three weeks to this day. Still, if you are the sort of individual to panic and buy generators before the eve of January 1st, 2000, or kick down old ladies at the supermarket for the last jug of Poland Spring, or spend seven hundred fifty thousand of your hard earned Simoleons/Bitcoins (sell while you can) on a zombie and rapture proof doomsday shelter, we suggest you ransack every beer retailer within a fifty mile radius of your bunker before the winter brews run out, because the overblown headlines tell us that cold's not leaving any time soon.
Date Sampled: 12-24-13 At: Penfield, NY, 14526, USA
Beer Style
:
Winter Warmer
Alcohol by Volume: 7.50%
Serving Type: 12 oz Bottle, 14 oz Mug Glass
Rating: 3.78
Look
Great Lakes' festive seasonal pours with a fairly turbulent nature caused by a medium high amount of carbonation action, producing a fairly creamy, half inch tall foam head with an off white color, a low retention, and a medium high density. This beer has a deep amber color with a nice shine in ilght and a good amount of effervescent effect. This is a clear, filtered beer with no visible sediment, and this brew displays only a small amount of residue like lacing.
Aroma
This beer has an immediately sweet caramel malt and festive spice dominated aroma full of cinnamon and nutmeg with some chi tea like notes mixed in with a cookie and some nuttiness. The aroma also has a subtle hint of hoppy bitterness with a small amount of citrus and lemon fruity presence. This contains no alcohol or metallic tinge and is of average strength overall.
Feel
This is a medium light bodied beer with a crisp finish, an above average amount of carbonation, and a fairly dry lingering finish. This beer has a relatively low weight and a slightly below average viscosity, which makes this a fairly easy to drink beer overall. This beer's finish has a slightly cooling effect with no alcohol warming typical of beers of this season. This beer is fairly smooth with a refreshing sensation.
Taste
Caramel malt sweetness dominates the immediate flavor profile of this beer and is augmented with a good amount of nuttiness and sweet cookie or biscuity like notes. This all comes with a good hint of festive spices like nutmeg and ginger mixed in, as well as a fair amount of finishing, clean, and somewhat bitter, citrusy hops with a slightly malty lingering dry and slightly pale malty like aftertaste. There is a small hint of alcohol tinge in the flavor.
Our Take
As this has been a fairly cold winter (by us at least), it was marginally apparent that this beer didn't offer the somewhat necessary alcohol induced warming effect that many other fairly strong ales of this style deliver. Of course, that wasn't too distracting, as this beer had immense malty flavors nicely ornated with an array of traditional festive spices commonly found in desserts this time of year (well, at least during the holidays). This particular beer was well balanced and did actually have a nice hoppy secondary - something not typical, albeit surprisingly pleasant of this style. And despite this being an apparently "refreshing" beer considering the style, the 7.50% ABV that it comes equipped with is still plentiful. This is also a fairly aromatic beer. Overall, there are no strong smells that will overpower your nostrils, but as many well balanced beers often go, this beer's complex aroma helps to enhance its flavor profile, adding depth and presence without being too filling or full bodied. This is an easy to drink beer which will go well with any traditional winter dinner poultry, mild cheeses, sweet desserts, and polar vortices.