"Health, History, Horses"... and Snow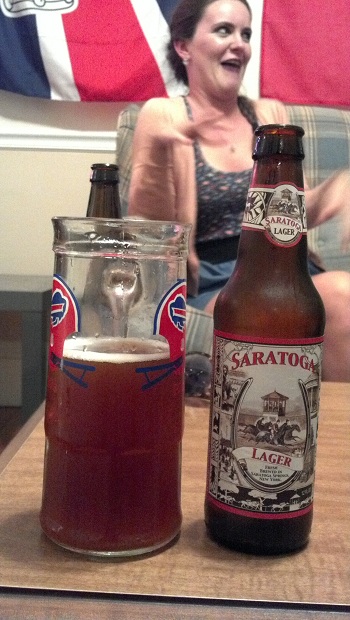 Brewery
and
Country
of Origin:
Olde Saratoga Brewing Company
of
131 Excelsior Avenue, Saratoga Springs, NY, 12866, USA
Date Reviewed: 10-15-12
Not far north up Interstate 87 from New York's State Capital is the City of Saratoga Springs, which today is known for horse racing, free water, being the birth place of Potato Chips, and concerts. As of 1997, the city of 27,000 has been home to the
Olde Saratoga Brewing Company
, crafters of this beer: an American version of the
German
Marzen
. We figured this would be a good time to review a beer that is very much in season, as
the annual festival
has recently come to a close. What's interesting about this style of lager is that it is, like the town of Saratoga, enduring. And by that we mean when it comes to the weather. Lighter lagers are typically summer and spring beers while darker
porters, stouts
, and some maltier
ales
with a fuller body, larger weight, and more robust profile dominate the fall and winter seasons. And we aren't talking about just any winter. Upstate and Western New York winters are always enhanced with what the local weather person refers to as Lake Effect Snow. This is a meteorological phenomenon which basically creates increased amounts of snow in temperatures just below freezing, where the sun heated water of a lake or other large body of water can still evaporate, freeze in the cool air, and accumulate on the cold ground in massive quantities. It is not uncommon to see snow squalls leaving over 70" of snow over the course of one multi-day winter storm. Fortunately for the citizens of New York State which can still order a large soda at a restaurant and drive to work, the state funded Highway Department is very good at removing snow and keeping roads clear and unfrozen. This of course annoyed kids looking forward to snow days after the usual 15" deposit on Sunday Evening. Though Saratoga isn't near Lake Ontario, it is still in a direct line of lake effect snow, getting an average 75-85" a year. Far below the averages of other New York Cities like Rochester, Buffalo, Oswego, and Syracuse, but still higher than most northeastern cities. Either way, real snow is still hopefully not happening for a while and until then, we can enjoy the festive amenities that the Autumn season has to offer. So stock up on those
Oktoberfests
.
Date Sampled: 9-14-12 At: 7 Prescott Place, Allston, Boston, MA, 02134, USA
Beer Style
:
American Vienna And Marzen Hybrid
Alcohol by Volume: 5.00%
Serving Type: 12 oz Bottle, 20 oz Mug
Rating: 2.77
Look
Saratoga's main lager pours lightly choppy with an unexpected, hazy, unfiltered glowing appearance, which emits bright pale amber color when held up to a light. This beer has medium light carbonation action, primarily contributing to a short, but somewhat dense foam head with moderate retention, and low amounts of lacing.
Aroma
This beer features a fairly prominent, yet not overpowering aroma full of caramel and pale malt with some grainy character typical of the style. This is a very simple aroma with no fruit, no spice, and no hops detectable.
Feel
This beer has a light body with a matching low viscosity. A medium high level of carbonation gives this beer a mostly crisp and refreshing, yet still exciting feel. Because this is a filtered beer, there is no gritty texture. This beer finishes a bit dull for a lager of this type.
Taste
The flavor overall is on the lighter side, predominantly grassy and grainy (normal for a pale lager), with a slight caramel malt undertone, and a slightly malty, non-lingering aftertaste.
Our Take
Though there aren't too many breweries in the Capital District of New York State, the number has been increasing steadily, and
breweries
like Saratoga (along with the breweries that it contract brews for) have been paving the way for a new, exciting, and successful industry in a part of the country (along the Rust Belt) which for less than stellar reasons wasn't terribly hit hard by the recent economic downturn. And much like the humble, historical, and proud city of Saratoga, this beer is respectable. Not world beating, but nothing dingy either. If you are looking for a cold weather lager which is light enough to offer an easy drinking experience, yet bold and of the style which usually is enjoyed in the later months, this could be a reasonable solution. Though there are plenty of
Oktoberfest beers
that
we've tried before
that are rated considerably higher than Saratoga Lager, we'd still recommend this beer to anyone who likes a lighter, yet still malty Marzen. This beer also has a Vienna lager character which can explain the more relaxed and easy going aspects of this beer. This beer provides a cheap and yes, cheerful alternative to rather expensive imports. And though it doesn't look like snow is coming for a while, you might be better to take advantage of other fall seasonals before this winter (which is predicted to be quite a doozy) sets in. Pumpkin ales aren't around forever, and Thanksgiving is still somewhat far off, so you have options. Just make sure that if the blizzard of the century happens where you are, stock up on beers before the
snowpocalypse
cuts off your only route to the liquor store.