"If It Isn't Fresh, It Isn't Legal"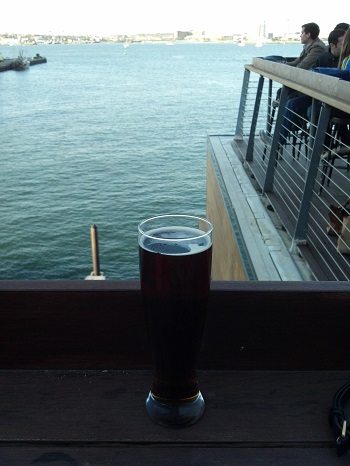 Brewery
and
Country
of Origin:
Harpoon Brewery
of
306 Northern Avenue, Seaport District, Boston, MA 02210, USA
Date Reviewed: 5-08-13
If there's one food group New Englanders are proud of, it's seafood. From Rockland to the Cape, and from
Gloucester
to Block Island, New England's hundreds of miles of shoreline gives its fishermen (and of course, women) access to one of the best and most diverse arrays of seafood in the country. And basically since the dawn of the lobster trap, the sea has been a vital source of income for cities and towns along the shore. Of course, not all of a fisherman's catch goes to market. As you'll find in any other part of
the world
where the seafood industry is important (places like
Japan
,
Norway
, or the coastal areas of
Spain
), the people also eat a large amount of fish and other creatures from the ocean. The
Oyster stout
was created out of an old
English
pairing of
Guinness
and fresh oysters. Today, many breweries craft oyster stouts with as many as ten or more oysters in a brew per barrel. So in a place like Boston, the seafood industry followed this natural development, and merchants opened up their warehouses to the public for dining. Famed Boston area based chain Legal Sea Foods is one of those restaurants. Born out of a fish market in Cambridge in 1950, Legal Sea Foods is a 32 location seafood restaurant chain which is perhaps best known for its chowder being served at every
Presidential Inauguration
dinner since Ronald Reagan won in 1980 (with the inauguration taking place the next year). The restaurant has expanded to seven states along the east coast, and continues to maintain a steady focus in Boston, where it gains perhaps more business from tourists than locals. In an effort to keep native Bostonians at the tables, the chain opened up their new Flagship location, Legal Harborside in the seaport district of South Boston. Encompassing 20,000 square feet and three floors of prime waterfront real estate, Boston's largest restaurant features modern architecture, rooftop balconies, and an elegant, yet casual atmosphere. Dining and Drinking menus are different for each floor. And each menu includes many items you can only get at Harborside. And if you're feeling ultra exclusive, pull your yacht up to the restaurant, which has its own docking and slip facilities. More importantly, the restaurant, which has a new relationship with neighbor,
Harpoon
, serves its own distinct Harpoon beer, Harborside Special, which is only available at the flagship location.
Date Sampled: 4-30-13 At: Legal Harborside, 270 Northern Ave, Boston, MA 02210, USA
Beer Style
:
Spring Bock
Alcohol by Volume: 6.50%
Serving Type: Keg, 16 oz Weizen Glass
Rating: 2.84
Look
Legal Seafood's exclusive beer pours smoothly with a moderately low amount of carbonation action. This produces a thin foam head with a low retention rate and a medium density, and a moderate effervescent effect. This is a clear, filtered beer with no visible sediment, giving this beer a bright and brilliant red shine. This beer laces only a moderate amount.
Aroma
This beer has a medium low strength aroma with a mostly caramel roasted malt presence. This beer also features some very sweet bread and biscuity cookie like notes with some slightly nutty accompaniment. The aroma does not involve any fruity notes or alcoholic tinge. There is a very small amount of rather dull and weak hoppy character as secondary.
Feel
This is a medium light bodied beer with a below average weight, a low viscosity, and a slightly crisp texture. This beer is easy to drink and contains a medium high level of carbonation, making it fairly refreshing overall. In general, this is a lighter beer with a good, clean feel which goes well with a seabreeze. Cool and light.
Taste
Overall, this is a sweet malty beer which emphasizes the use of roasted caramel malts and associated flavors. There are some nutty and biscuity cookie like secondary notes as indicated with the aroma, and the flavor is somewhat balanced with a moderately hopped tail which finishes with a somewhat lingering bitter aftertaste. There are no alcohol or fruity flavors in this beer.
Our Take
Though not as satisfying as the food you'll inevitably pair this beer with, Legal's exclusive
Harpoon
brew adds a bit of novelty to your visit to Esquire Magazine's #1 new restaurant of 2011. This lager offers a bit of sweet roasted malt character balanced with a bitter trailing aftertaste, of which no aspect is overpowering or underwhelming. Of course with this, you don't receive delivery of any bold or outstanding flavors, and this beer's lighter presence adds to its rather restrained and mundane profile. Still, we believe this beer's lack of a prominent aspect makes it a fairly versatile pairing beer: something you'll want if you're looking for a brew that goes well with raw fish. We also happened to order this beer because the proceeds went toward the One Fund, which raises money for those affected by the
Boston Marathon
bombings.