"I Always Find The Fish. Always!"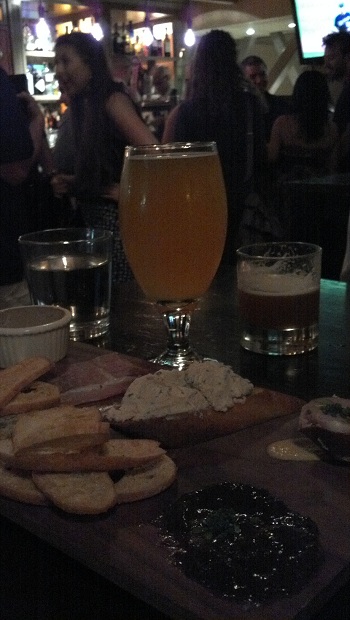 Brewery
and
Country
of Origin:
Cape Ann Brewing Company
of
11 Rogers Street, Gloucester, MA, 01930, USA
Date Reviewed: 8-07-12
Whether your job takes you away from family and home for a while, or you spend a year on active duty abroad, you seldomly come across those little things that remind you of it all. But when you do, it's special. There is something about what you define home as that catalyzes the amazing transformation of tangible objects into intangibles. A few pieces of fabric with some cotton and buttons in the form of a stuffed toy dog can mean the world to someone for life. Just as preparations were being made for the Gloucester, MA based
Andrea Gail's
return from a 37 day fishing trip, the weather report of a category 1 hurricane,
The Perfect Storm
came in. The crew of six had already received reports of dangerous weather, so with the added urgency of a newly discovered malfunctioning ice machine putting the entire catch in jeopardy, the team decided to head back home early, straight for the
Unnamed Hurricane
(as the National Hurricane Center referred to it as). And though his song was about the unfortunate fate about the SS
Edmund Fitzgerald
, Gordon Lightfoot asked the question every seaman facing peril has sought answers for;
"Does anyone know where the love of God goes when the waves turn the minutes to hours?"
Nearly 40 foot waves and gale force winds above 80 knots battered the 58 foot vessel through the night and with Captain Frank Tyne Jr's last recorded words: "She's comin' on, boys, and she's comin' on strong," the
Andrea Gail
was lost at sea. October 28th, 1991. Because it is certain the ship was still fighting the storm hours after the last radio transmission was made, one can only guess what happened during the crew's final hours. Perhaps they fought to the very end. Perhaps they prayed. Perhaps they sought comfort in those intangibles that reminded them of home. Pictures of loved ones, a hand knit sweater, maybe even a beer. What matters is that they had originally brought a piece of home on the vessel to help motivate them through the voyage until they got back, just in time for Halloween. What no one predicted though, was that these intangibles would be a near impossible source of comfort during a time when all hell was breaking loose, albeit only in the form of generating memories of good times past. But whether it was that picture of the family, the father's watch, the hand knit sweater his wife crafted, or that cold brew from the local brewery back home in Gloucester, it was a small reminder that their home, their loved ones were always by their side until the very end.
Date Sampled: 8-03-12 At: Russel House Tavern, 14 John F. Kennedy Street, Cambridge, MA, 02138, USA
Beer Style
:
American German Style Kolsch
Alcohol by Volume: 5.00%
Serving Type: Cask Keg, 12 oz Snifter Glass
Rating: 3.18
Look
This is a beer with an immediately obvious hazy/cloudy appearance. A nice light golden color glows vibrantly when held up to the light (as opposed to the dark picture above... no, we're not about to put on the flash and disturb everyone else at the bar). There is no lacing happening here. A lower amount of carbonation delivers a thin, light foam head.
Aroma
The Kolsch gives off a slightly smoky smell with a grainy tone overall. Slight cereal like aroma with a bit of maltiness mixed in. Because there isn't much carbonation, the overall smells feature nothing terribly prominent.
Feel
Fisherman's Ale gives off a nice, subtle warming effect, coming into play towards the slightly lingering finish. This is a medium bodied beer with a medium low viscosity, and a barely noticeable earthy texture. There is a relatively low amount of carbonation. This is an unfiltered beer.
Taste
A smoky and hoppy overall flavor gives this beer a quirky and cozy character. There is an earthy taste detectable in the mix as well. Being served from a cask, we would imagine that some of these tastes are derived from the cask - something we welcome. There is a somewhat fruity aftertaste with a presence of hoppy and toasted notes as well.
Our Take
Immediately noticeable is the alternative, smoky and warming aspect of this beer. Like a warm, cozy fire on a cold, rainy fall evening, this is a brew which can help you escape from your surroundings for a little while, and travel back to the time when fire places actually used wood, and books were a thing. If that's not your scene, then imagine those summer nights, the crackling of the camp fire, and your friends to share the trip with you. Maybe the mouth watering sizzling of the family backyard barbeque comes to mind. Either way, this beer has the humble and understated presence that reminds you of the important, simple things in life. And that's what makes this special. Sure, with a score of 3.18, this is definitely not the best beer, or even the best Kolsch we've had before, but it's the Fisherman's Ale's character that elevates its significance. Like your childhood blanket, most people won't find this particularly special on the face of it. But when you take a real moment to understand what this truly represents, you'll begin to appreciate what we're on about. It may not be the beer that sways you. It's what the beer evokes, that makes you smile.