One Man's Trash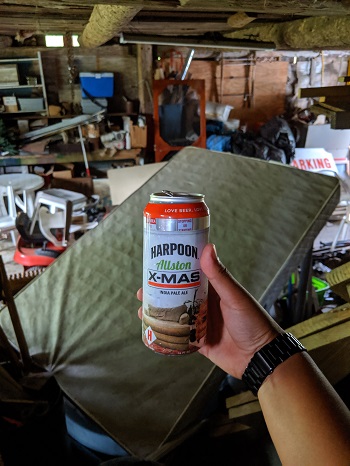 Brewery
and
Country
of Origin:
Harpoon Brewery
of
306 Northern Avenue, Boston, MA 02210, USA
Date Reviewed: 9-13-19
Deep within the bowels of
Boston's
antediluvian highway network lies a ribbon of Tarmac locals would argue serves as a better can opener than a thoroughfare. The piece of infrastructure in question, officially known as James Jackson Storrow Memorial Drive, or simply Storrow Drive, is an approximately two-mile long crosstown parkway along the Charles River Esplanade. This bit of road provides the western suburbs with ostensibly direct, albeit often backed up access to several downtown destinations. As it is a parkway, buses and trucks are not permitted, but on or around every September 1st, a few unsuspecting out-of-towners hauling their most coveted dorm room or studio apartment possessions end up tearing off the roof of their innocent moving trucks under one of Storrow's low-clearance overpasses like a can-opener, spewing their unmentionables all over the road in a not-so-uncommon ritual known as being "Storrowed." Hilarity and self-satisfying priggish remarks usually ensue for those either witnessing the unfortunate incident on local news, or learning about it in the local traffic report. And for those driving slowly past the ashamed midwesterners desperately clawing the pavement for their
Ikea bedsheets
and
Chicago Blackhawks
attire, the past hour and a half of standstill frustration that led up to this sad yet comical display has motivated them to mixing in the occasional verbal insult to injury. All of this makes for a genuine welcome to Boston, voted "
America's
meanest city, for the new student or yuppie just trying to make it in their new home town. This is all part of a larger annual event sometimes referred to as "Allston Christmas."
The greater Boston area is home to more than fifty colleges and universities with hundreds of thousands of students from out of town moving into their new apartments and dormitories around the beginning of September each year. As a result, much of the local rental housing market bases rental agreements on 12-month leases with a September 1st start date. This means many people are also moving out of their existing apartments on August 31st. In an effort to either travel more nimbly on a day when the only available moving vehicle is a Smart Car, or simply accept being an adult means not furnishing an entire home with second hand Lovesacs and Selena Gomez posters, many of those moving out of their current apartments leave their unwanted furniture, appliances, TV's, and other weathered but otherwise functional junk on the sidewalk, implicitly free to anyone who desires to give it a loving home. It's an unwritten tradition celebrated among the more youthful neighborhoods of Boston, where people tend to move between apartments more frequently than Taylor Swift moves between EP inspiring flings. Once in a while, a handy Bostonian out for a morning amble may find themselves nearly trip over the most
Instagrammable
dresser in history, after a few hours with the paintbrush and belt sander of course. The perfect kitchen chalk board? Those tasteful Audubon Society dinner plates? These rare finds are what Allston Christmas is all about. That, and cracking open a beer or some bubbly after a successful (or even not-so-successful) move.
Local Boston brewery
Harpoon
has paid homage to this annual cluster-(make way for D)uck with a
New England IPA
featuring a parody of the iconic U-Haul rental truck logo (a brand of moving truck commonly falling victim to the dreaded overpasses of Storrow), and all of the typical junk you'd see on the sidewalk of Allston/Brighton. Fortunately for those living within the local distribution envelope of the 7.00% ABV Allston X-Mas, you don't have to block traffic for two hours or break your finger moving a chifferobe down the stairs to experience a bit of the annual fun.
Date Sampled: 9-1-19 At: 920 High Street, Athol, NY 12810, USA
Beer Style
:
New England IPA
Alcohol by Volume: 7.00%
Serving Type: 16 oz Can, 16 oz Glass
Rating: 3.36
Look
This beer pours somewhat turbulent with a moderate amount of carbonation action, producing a half inch medium density foam head with a white color, a medium retention. As is typical of New England IPAs, this beer has a golden yellow color with a hazy, cloudy appearance, with no shine and a moderate amount of glow in light. There is a below average amount of effervescent effect with a fair amount of extra fine, non-settling sediment visible. This beer displays a small amount of lacing on the glass.
Aroma
Allston X-Mas features a low-strength aroma with the expectedly typical New England style hop makeup. This produces a mostly bitter presence with a good deal of citrus persuasion, most notably lemon and orange fruit. This floral beer also has hints of grapefruit, some yeast influenced banana on the backend, and some sweet biscuity and lighter malt undertones. There is no alcohol smell, and the aroma, while not particularly strong overall, does have some moderate effect on the taste.
Feel
This is a medium light bodied brew with a below average viscosity typical of the style, a medium light weight, and an average amount of carbonation. Overall, this is a somewhat refreshing, crushable beer that drinks like a session, but with the alcohol of something substantially bigger. This beer has no material texture, and is somewhat smooth with a slightly dry and fairly crisp finish. This beer has no alcohol warming or bite, indicative of a hidden alcohol content. This is a beer best suited for the early fall.
Taste
As is expected for a moderately sized New England IPA, this beer is bursting with citrus flavor, headlined with lemon, subtle melon, and hints of banana, mostly mimicking the aroma. This is a well balanced beer with a slightly sweet roasty undertone and a floral hop dominance with malt trailing. Somewhat buttery Northeastern Hops throughout the flavor profile ensure the style fits the beer, which finishes pretty dry with a moderate linger, and no alcohol or bite toward the end.
Our Take
Moving is simply terrible. Moving when everyone else in the city is doing the same thing is a never ending nightmare. But as all great accomplishments should be recognized, a successful move deserves a pint or four, and this beer may just do the trick. Overall, this is an easy going brew with a good amount of New England IPA haziness, typical bitter and floral profiles, and just enough of that sweet, sweet ethanol to make you forget how god awful the last few days lugging all of your crap up and down four flights really were. Overall, this is a good beer which can be enjoyed all year, but as we said before, it's better when the weather outside is seasonable, but just on the threshold of turning cooler. This beer's bitter overall flavor, accented with a bit of sweet banana and some pale malt, makes it a good pairing option for smoked, salty meats, hearty BBQ, moldy cheeses, apple pie, and Thanks-A-Lot Girl Scout Cookies. The New England IPA market is getting really crowded, and it seems each day something new, something better is coming out from one of the region's world class
breweries
. But of course, not everything can be at the top of their class. Allston X-Mas doesn't really excite like some of the exotic and hard to find offerings from powerhouse organizations like
Tree House
or
Trillium (which also released their own "Storrowed" themed beer), but perhaps this beer doesn't have to. This beer serves as a somewhat humble reminder that not everything in live goes as planned. If you want to enjoy the glamorous life of a Boston resident, you may have to crack open a truck, or at least a few beers first. And maybe, just maybe you'll be able to comfortably sit back watching the news one September first morning, laughing as yet another poor box truck gets unwedged from Storrow Drive.