Crafty Development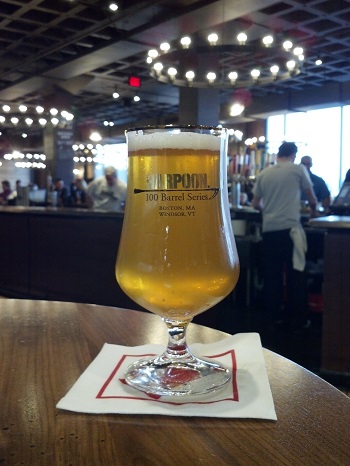 Brewery
and
Country
of Origin:
Harpoon Brewery
of
306 Northern Ave # 2, Boston, MA, 02210, USA
Date Reviewed: 5-01-13
Though we've recently done a review at
Harpoon Brewery
's new beer hall, we didn't go into much detail about one of our favorite brewery's newest renovations. In fact, we didn't even go into much detail about how that particular beer was a
new offering from the brewery's pilot operation
. So with the invitation to try out their newest
100 Barrel Series
session, we figured that this would be a good time to throw our two cents in. Keep in mind that we're actually writing this page before we complete our brewery page for Harpoon. Opened in 1987 in the Boston seaport waterfront, Harpoon's main brewing facility occupies an old ship building hangar which, if you look up at the reinforced ceiling, was constructed and fortified to withstand a bombing attack from above. And though today the area is home to vast high end real estate developments, night clubs, swanky restaurants, expensive hotels, and Class A office buildings, it wasn't always about image or prestige. When Harpoon opened more than twenty years ago, the area was rarely frequented by anyone not at the wheel of a semi or hauling seafood crates. So Harpoon had no trouble settling with a humble atmosphere for themselves. Sure, for a long while the brewery had a modest store, a fun tour and tasting schedule, and the option to grab growlers and bottles of whatever tickled your fancy. But as far as anyone understood, Harpoon was about brewing beer, not attracting visitors. But since it's opening on February 1st of this year, Harpoon's new Beer Hall and Pilot Brewery shows that co-founders Rich and Dan have higher ambitions for their unique real estate.
The $3.5 million venue, opened adjacent to the new $2.5 million canning line, and opposite the building to the old store and tasting bar, features a layout inspired by
German
beer tents and halls. The addition includes traditional style long Vermont Butternut wood benches and tables, as well as a long bar dividing the 6,000 square foot space. Medieval chandeliers adorn the ceiling, and windows line both long sides of the area: one with a view of the new canning line, the other with a panoramic view of the Boston skyline. Twenty beers are available on tap, including limited brews made in Harpoon's new pilot brewery, also at the facility. There are usually three of these offerings available on any given day. Mainstay beers go for $5.75, while limited or special pints go for $8.00, both of which we think are a bit steep, even for the seaport area, which has restaurants which offer harpoon pints for $6.00 or less. Still, beer doesn't really get any fresher than at a brewery. The new beer hall also sells hand made pretzels made with spent barley grain for $1.75. These are served steaming hot with a choice of two dipping sauces. Our favorites are garlic and maple. Done away with are the daily tastings, which we'll miss, and the normal tour has changed to a catwalk like setting. The tours run daily on schedules (every hour on weekdays, twenty mins on Saturdays, and every half hour on Sundays) usually from 11:00 AM to 6:00 PM. They are still only $5.00 and are definitely the best deal as you still get access to unlimited samples of their beer for a full 30 mins. Yes, you can drink a lot of great beer in that amount of time. The space fills up quickly, and with a fire code mandated 300 person limit, long lines outside the front doors are a regular sight.
In 2012, 87,000 people visited the brewery, and everyone expects that number to jump considerably this year. Some people welcome the changes happening at
America
's eighth largest craft brewery, saying that it's a great way to introduce more people to the awesome world of craft beer. It adds a unique attraction to the city of Boston, and it'll get more people to come to the upcoming seaport neighborhood. Others, however, believe it's a step in the wrong direction. Local competitor
Sam Adams
faces regular criticism from the craft beer community for expanding too much, becoming a public company, and essentially losing sight on what genuine craft brewing is all about. Of course, Sam Adams is a far cry from Harpoon, and only time will tell if Harpoon ends up following the same path. And like we said, this somewhat shows in the decisions to make pints $8.00, shorten tours, and appeal to mass tourism. But for now, things are going well, and it seems as though the new beer hall has become such a success, that Harpoon's only concern should be complying with the local fire code.
Date Sampled: 4-23-13 At: Harpoon Beer Hall, Harpoon Brewery, 306 Northern Ave # 2, Boston, MA, 02210, USA
Beer Style
:
Belgian Blonde Ale
Alcohol by Volume: 6.50%
Serving Type: Brewery Keg, 16 oz Tulip Glass
Rating: 3.21
Look
Harpoon's newest 100 Barrel Series brew pours very choppy with a lot of carbonation action, producing a half inch foam head with an average amount of retention and a medium density. This beer is unfiltered with very fine sediment, causing this beer to give off a fairly bright glow with some golden colored shine. This beer has low effervescent properties. This beer shows off moderately full lacing.
Aroma
This beer has a medium strength aroma showcasing fruity, somewhat sour, and citrusy hoppy notes. This beer's floral hops give it off a crisp, spring like feel, accompanied with fruity banana, orange, and clove aromas which make this beer airy and similar to many Belgian styles. The aroma has some sweetness and there is no alcohol or nuttiness.
Feel
This is a medium light bodied beer with a low weight, a matching viscosity, and an average amount of carbonation. This beer is cool, crisp, and refreshing, with a light, whispy texture. This beer has a slightly dry and cool finish which gives off no alcoholic warming. All of this makes this a perfect late spring time beer which goes well with a cool breeze. This may even be a good beach brew.
Taste
This ale's flavor profile showcases the use of floral and citrusy hops which give off flavors akin to fruity banana and orange citrus. This beer is very bitter overall, from start to finish. There is some very light pale malt and bittersweet darker secondary malty notes present, but clearly overshadowed by the strong use of hops. The dry finish lingers with a bitter aftertaste. This is joined with a bit of sourness toward the end of the flavor profile.
Our Take
As spring is very much upon us with forecasts well into the upper sixties and lower seventies (and sunny), it's finally time to bring out the lighter, fruity, sweet beers which go well with sweltering heat, crowded beaches, and sunburns. This is a lighter beer which most people will find suits the season quite well, offering a cool and crisp texture, a lighter body, and flavors which aren't too dominant. We're not saying that this beer is without any substance, but it's certainly a more forgiving brew than
Harpoon
's last 100 Barrel Series,
Director's Cut
, which was essentially half of a
stout
. This beer features citrusy bitter hops and fruity notes, both of which bring out a refreshing profile in contrast to recent darker, maltier beers. This beer also has an approprite slightly sour, bitter, and floral aroma, showcasing this beer's bold hoppy character. At times the fruity flavors of this beer seemed a bit unrefined, and perhaps too much emphasis was put on making this a very hoppy
Belgian
style brew. And though we welcome the season's lighter offerings, this beer was a bit too whispy and airy, too early. Still, we expect this beer to sell quickly, even if much of it will be consumed at $8.00 a pint.