"I'm Rollin' Thunder, Pourin' Rain. I'm Comin' On Like A Hurricane."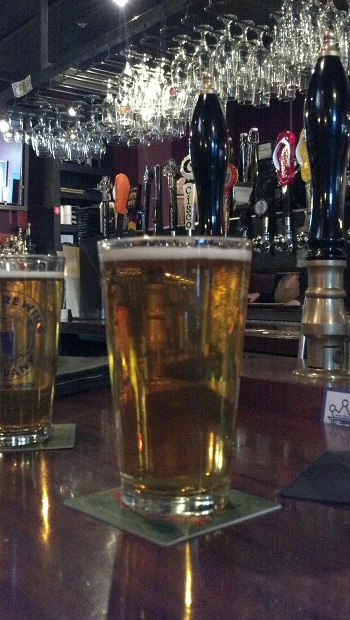 Brewery
and
Country
of Origin:
Haverhill Brewery
of
100 Washington Street, Haverhill, MA, 01832, USA
Date Reviewed: 10-25-12
Recorded in the spring of 1980 at a small but notable recording studio in
The Bahamas
, "Hells Bells" is a song by
Australian
rock band AC/DC which tells the story of dragging a damned soul to the eternal world. The song is immediately recognized by its long intro containing the 13 toll sequence of a 2,000 lb bell which was custom made for the production of the song. As anyone can hear, the bell rings a long note of A, while the band wanted a C note but the 4,000 pound bell needed for that note would have been too heavy. What's amazing is that the rock band decided to go with practicality. Inpatience got to the band as they waited for their bell to be made, and they recorded the song with a bell at the local War Memorial, but the background noise of birds and passing cars made the recording unusable, so they were forced to live with the original plan. The song, five minutes and twelve seconds long, was the first track on AC/DC's seventh studio album,
Back in Black
, which served as lead singer Brian Johnson's first appearance, replacing Bon Scott, the former lead of the band who had died at the age of 33. The entire album, which has sold over 50 million copies worldwide, was dedicated to him. Turns out there is an all-female AC/DC tribute band from
America
which has taken its name from the song. And now, thanks to
Haverhill Brewery
, there is a
Munich originated
Helles Lager
(similar to a
Marzen
) which pays tribute as well... to both bands evidently. Thirsty rock and roll fans can celebrate one of
Australia's
greatest exports (and no, we're not talking about what marketers claim is
"Australian for Beer"
). And you know what? It's about damn time.
Date Sampled: 9-15-12 At: Lord Hobo, 92 Hampshire Street, Cambridge, MA, 02139, USA
Beer Style
:
Munich Style Helles
Alcohol by Volume: 5.30%
Serving Type: Keg, 16 oz Tumbler Glass
Rating: 3.22
Look
This beer pours moderately choppy with a thin but long lasting foam head - a result of a lower level of carbonation action. This beer has a clear appearance with a pale golden color, and a nice bright shine in the light. A large amount of lacing does occur, and this beer has no sediment.
Aroma
As implied by the name, this German inspired Helles lager has a dominating grainy aroma with some lighter pale malt notes mixed in. Because this beer has a fairly weak foam head, the aroma may be somewhat difficult to detect if aromatic food is present. Some hoppy character is noticeable in the aroma.
Feel
This is a medium light bodied beer with a below average viscosity, and a moderate amount of carbonation. This beer finishes bitter, but dull as well, with a longer lasting close. This is a lighter feeling brew which starts off feeling crisp, yet closes completely different. Being a lighter beer, this goes well with smaller, lighter meals.
Taste
The Helles Belles is a fairly grainy beer overall, but some subtle citrusy and fruity notes are present, as well as a fair bit of pale and pilsner malt like flavors. Nothing terribly strong or bold in the flavor department, as this is a lighter beer overall. The aftertaste is full of hoppy and grainy flavor.
Our Take
This is a good beer which has the unique characteristic of delivering a solid, well-balanced flavor while being lighter on the stomache, easier to drink, and crisp with a lower weight. Though the flavor could be a bit more malty (somewhat bolder), we thought that this was a great early fall (mid to high 60s) beer which wouldn't leave you out in the cold, but still allow you to enjoy plenty of those wings on Football Sunday. We found the aroma was the weakest aspect of this beer, with a lower than average (for the style) level of carbonation (giving it a shorter foam head with weak retention). Other than that, this is definitely a good go-to beer for a style which we belive is a bit over-looked too often. This is a
Bavarian
style beer which sadly, usually takes the back seat to
Marzens, Munchners, and Oktoberfests
, especially around this time of year. Sure, these styles will deliver a fuller, maltier profile with darker malts and colors, but if you're into a more hoppy and bitter alternative, it is going to be the
Helles
which delivers. And like history teaches us, sometimes it just takes an underdog. Everyone likes an underdog, and while the world was still enveloped within the string shredding riffs that the
Brits
like The Who, and Led Zep gave us, or the heartland driven, poetic rock acts from
America
including Petty, Springsteen, Dylan, and Joel, a little rolling thunder from down under was beginning to create a stir. And thanks to the magic of rock 'n roll, their album
Back in Black
is the second best selling album of all time.