Explosion Without The Bang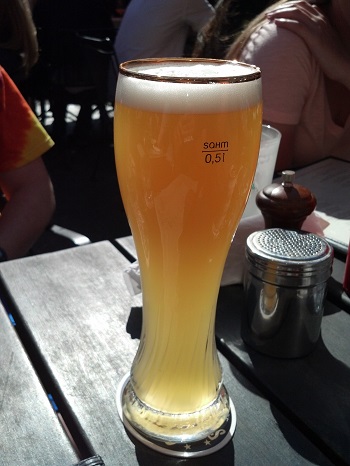 Brewery
and
Country
of Origin:
Bayerische Staatsbrauerei Weihenstephan
of
Postfach 11 55, D-85311, Freising, Germany
Date Reviewed: 6-06-13
Despite this brew's name, the distinct, style defining ingredient in
Weihenstephan
's Hopsplosion isn't its hops. This is a
Hefeweizen
, which means a few things. First and foremost, this is a wheat beer whose malted grains are primarily wheat, rather than barley. Second, this is a top fermented ale style beer, a brewing yeast practice which is dictated by
German law
for weissbiers. Third, this is a specific kind of weissbier in that it contains unfiltered wheat and yeast solids, giving it the trademark hazy and cloudy appearance with a tall, dense, and thick foam head. Wheat beers' foam heads are robust because of the higher protein content in the unfiltered solids. And like most central European wheat beers, the hefeweizen has a sweet, banana like character which results in a very low
IBU
. This is a direct effect of the yeast strains used in fermentation. These specific strains are ideal when fermenting malted wheat rather than barley, and are sourced from the region. Wheat beers are also great for the summer when the heat hikes up due to their typically light presence, refreshing finish, and crisp feel. The banana flavor is derived from the fermentation by-products of esters, including isoamyl acetate, which is a chemical compound containing a double bonded C=O group and an ether group (nerdy chemistry stuff, we know). The clove character comes from metabolites of ferulic acid. Aside from all of that, unfiltered wheat beers are rich in nutrients (mainly from wheat grain and yeast), including essential daily vitamins and minerals.
Date Sampled: 5-27-13 At: Deep Ellum, 477 Cambridge Street, Allston, MA 02135, USA
Beer Style
:
Hefeweizen
Alcohol by Volume: 5.30%
Serving Type: Keg, .5L Weizen Glass
Rating: 3.46
Look
This hefe has a typically hazy and cloudy appearance caused by the inclusion of good amount of fine sediment. This beer pours choppy with a medium high amount of carbonation action, giving it a medium high density, three quarter inch tall foam head with a moderate retention rate and a slightly creamy texture. This beer shows full lacing, and low effervescent properties. The color is pale golden with a bright glow and no real shine.
Aroma
This beer has a fairly strong aroma full of floral hops, slightly citrusy fruity notes with some sweet fruity banana secondary as well as some clove and a bit of coriander spice. This beer is somewhat diverse with a light amount of pale malt, and no alcohol tinge. This aromatic beer's flavor is enhanced with a prominent refreshing and airy aroma full of flower like notes, appropriate bitterness, and lighter malts.
Feel
This is a light bodied brew with a good amount of crispness offering a refreshing experience which is great for the increasingly hotter days. This beer has a low viscosity, a low weight, and a medium low amount of carbonation, making it both light in presence, and fairly smooth overall. There is a cool after effect with no alcohol warming or bite, and the slightly lingering finish is pretty dry.
Taste
This beer is very fruity and includes both somewhat citrusy notes as well as banana sweet notes, with a good amount of hop bitterness toward the end of the profile. This beer's flavor profile is offset with a light pale malty beginning which turns bitter and wheat like until a dry finish and bittersweet aftertaste which includes floral hoppy notes as well as some banana flavor and coriander spice.
Our Take
What makes the Hopsplosion a particularly good summer beer is that it doesn't sacrifice flavor prominence or aromatic quality for a lighter body, as many lighter
pale lagers
settle with. Yes, this beer has a powerful aroma which reflects this beer's hoppy and wheat/yeast properties that define the overall flavor. Full of banana, clove, citrus, and some spice, the aroma is complex, and enhances the flavor experience of this beer, as long as it's served in the correct glass. Sweeping herbal character accompanied with a spring like airy and light feeling as well as a dry finish. This beer has all of the right properties which make it a great spring or summer time beer. And this beers well balanced profile should make it a satisfying experience to most beer lovers, even if this particular beer doesn't hit any real flavor spectrum extremes. That said, this beer would go great with hot wings, pork, very sharp cheese, or a beach.