Cherries Roasting On An Open Fire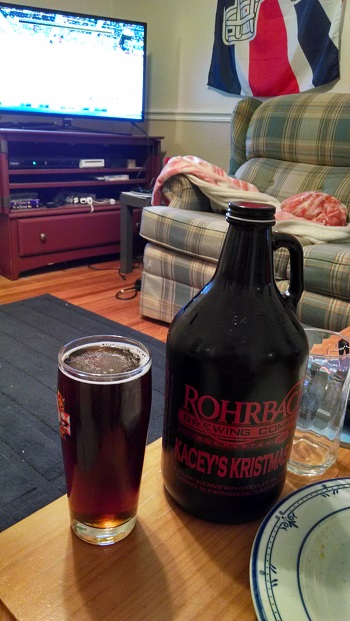 Brewery
and
Country
of Origin:
Rohrbach Brewing Company
of
97 Railroad Street, Rochester, NY 14609, USA
Date Reviewed: 2-04-14
A typical
Christmas Ale
features a good array of spices and a fairly high strength in terms of alcohol content. Of course, if 2013 taught us anything, it's that rules are, at times, but mere suggestions. And in the case of this particular winter seasonal from hometown favorite
Rohrbach
, typical is not what was prescribed. We recently reviewed a
Harpoon
brew house special descriptively named
Chocolate Cherry Porter
(before the "Black Forest" name was attached to it). A winter warmer that was not, but it essentially seems like Rohrbach used it as a foundation for what we have here: a lower strength holiday ale brewed with the flavors of chocolate and cherry on the brewmaster's mind. As far as we can quickly recall, this is the first time we've experienced a deliberately fruity winter brew. You may not want to quote us on that. Either way, it's a rare occurrence that we'd like to highlight. There are certainly many
different styles
that are more clearly defined in terms of what characteristics make them significant.
IPAs
, as we all know, are aromatic and bitter.
Porters
are dark, sweet, and malty. And while winter warmers may not be as well known, they belong to a group with clearly defined traits, of which, this beer does not follow. So in a sense, this is as crazy as a malty IPA, a high strength
pale lager
, or a very bitter cream stout. But on occasion,
breweries
like to deviate from the established, and we are always respectful to that. Eventually, we all have to keep trying new things, expanding our proverbial horizons, because if we don't, we all might as well be drinking
Bud Light Platinum
for the rest of our lives.
Date Sampled: 11-15-13 At: 7 Prescott Place Dining Room/Kitchen, Allston, Boston, MA, USA
Beer Style
:
Winter Warmer
Alcohol by Volume: 5.00%
Serving Type: Growler, 16 oz Stange Glass
Rating: 3.08
Look
This Christmas ale pours smoothly with only a little amount of carbonation action, producing a thin, quarter inch tall foam head with a low retention, a medium density, and a tan color. This beer has a slightly hazy appearance with the inclusion of a small amount of extremely fine sediment showing no visible chunky solids. This beer has an average intensity copper colored glow with a dull shine. A little bit of effervescent effect is displayed along with an average amount of lacing.
Aroma
A moderately low strength aroma does little to fully enhance this beer's flavor profile, but does augment it somewhat with some fruity sweet cherry notes and a good amount of seasonal spices like nutmeg, and anise. There are also some good bisciuty and nutty notes and a cookie like undertone complemented with medium roasted caramel like malt. This aroma is sweet overall with only a small zesty presence of hops and no alcohol tinge.
Feel
This is a medium light bodied brew with a medium low weight, a low viscosity, and a carbonation level below average. As such, this is a pretty easy beer to drink, especially for being in a season typically dominated by heavier, higher strength beers. This beer is chilling overall with no real alcohol bite coming from the 5.00% ABV. The finish is dull but somewhat dry with an average amount of linger. Overall this beer is smooth with no texture from the fine sediment, and offers a fair amount of perhaps unwanted refreshment in the cold months.
Taste
Te flavor is dominated by an overall sweetness full of malty notes with some nice gingerbread like spices including cinnamon, anise, nutmeg, and others. This beer also has a fair amount of chocolatey notes along with a strong presence of fruity sweet cherry flavor. Included in the secondary are some biscuity and cookie like notes and a subtle nuttiness. There are no alcoholic notes in the flavor, and the finish in cludes a good amount of cherry flavor. There are no real hoppy notes to speak of.
Our Take
If a hearty, soul warming, gut filling winter ale is what you're looking for, you may want to keep searching. This is a lighter beer which does deliver on some of the promises made by the winter warmer style, including a rich, malty sweet profile with plenty of seasonal spices and a good amount of cookie like character. The color is dark, which indicates a malt heavy presence as well. But this beer can be actually fairly refreshing and if you're looking for any alcohol induced warming, you're not going to find it here. This beer also has a fairly moderate level of alcohol strength, weighing in at only 5.00% ABV. Of course, this is not necessarily a problem, but when compared to most
English
style winters, this will be seen as a bit restrained, if not mild. Still, this is a flavorful beer which many will like, especially because this is a different flavor for a winter ale altogether. The fruity aspect of this beer is nearly too strong for its own good, but a nice chocolately note helps balance out the fruitiness. This is great with any seasonal dessert.