Once An Abbey, Always An Abbey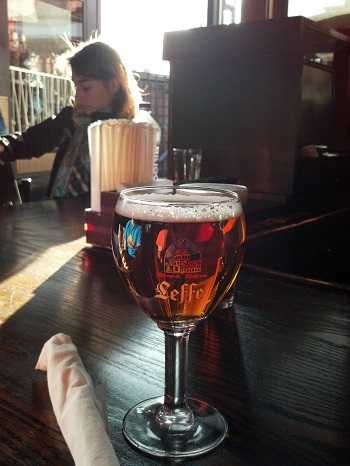 Brewery
and
Country
of Origin:
Abbaye de Leffe S.A. (Subsidiary of InBev Belgium)
of
Brouwerijplein, 1, 3000 Leuven, Belgium
Date Reviewed: 4-05-13
This is Leffe, a brand of
Belgian
beers you may already be familiar with. Thanks to an unprecedented business transaction in 1952, Leffe was the first "
Abbey
" beer producer acquired by a major commercial brewery. In this case, those responsible were none other than what later became
InBev Belgium (Part of AB InBev)
. To many, this was seriously looked down upon. Blasphemous, essentially. The Abbey, which was founded in 1152 in Southern Belgium (Namur), was like most other European monasteries in that they produced a unique beer for their own consumption, using only natural ingredients found nearby. And like many other monasteries, especially those in war-torn regions of Europe, the Abbey had its fair share of hardships. A flood destroyed it in 1460, and six years later, it burned in a massive fire. In 1735, troops that it was housing damaged the Abbey, and during the
French Revolution
, it was destroyed and abandoned in 1794. It wasn't until 1902 that the founding Roman Catholic religious order (Premonstratensians) returned to rebuild the Abbey and restore the brewery operations. But perhaps the most PR damaging blow came when the brewery sold all of its brewery operations to a Flemish brewery called Lootvoet. As we stated earlier, this was the first agreement of its kind. The brewery would pay the Abbey royalties, and distribute it for commercial sale. Lootvoet was acquired by Interbrew, which would later become InBev, the European half of
AB InBev
. Because of this, every beer you drink with the Leffe symbol on it is actually produced at the
Stella Artois
brewery. Today, there are 11 different styles of Leffe, including
bottle conditioned
beers as well as seasonal ones. Two new styles, a honey flavored beer called Leffe Nectar, and a 7.50% ABV beer called Leffe Royal were added to Leffe's portfolio in 2012. Royalties continue to be paid by InBev to the Abbey, and Leffe Blonde is still the brand's flagship brew.
Date Sampled: 3-30-13 At: Daedelus Bar, 45 1/2 Mount Auburn Street, Cambridge, MA 02138, USA
Beer Style
:
Belgian White
Alcohol by Volume: 6.60%
Serving Type: Keg, 25 cL Goblet Glass
Rating: 3.75
Look
Leffe pours with a moderate amount of carbonation action, giving it a somewhat elevated amount of choppiness. This beer produces a three quarters inch foam head with a medium density and a lower level of retention. This is a clear beer with no sediment and a very bright golden shine in the light. Full lacing is displayed on the glass.
Aroma
This beer's fairly strong aroma showcases true Belgian notes with pronounced fruity banana and sweet clove and coriander aromas. This beer has a sweet undertone with almost no bitter hops to balance, and no presence of detectable alcoholic smell. This beer has a somewhat medium malty secondary aroma, adding to its overall sweet structure.
Feel
This is a medium light bodied brew with a light amount of weight, a pretty low viscosity, and a moderate amount of carbonation, all of which is a combination which makes this beer pretty easy to drink, and cool, crisp, and refreshing, especially at the finish. This beer has a somewhat dry and lingering finish which makes this an especially appropriate summertime or early fall beer.
Taste
This beer has a sweet flavor overall with fruity banana and wheat produced clove notes. This beer's sweet presence is balanced between lighter malts and wheat derived fruity notes. A very small hint of nuttiness is detectable. There is almost no presence of hops in the flavor, and no alcoholic tinge, despite a moderate strength (6.60% ABV). This beer has a slightly bitter and short lingering aftertaste.
Our Take
Though this beer is now produced by the world's largest beer maker, it would appear as though Leffe hasn't lost its original magic. This Belgian
white ale
has been produced for hundreds of years through fire, flood, war, and corporate takeover, but its still an excellent beer. This brew's well balanced sweet profile and lighter presence give it a mainstream feel without losing any of the traditional
Belgian
aspects of medium light malts, wheat like notes, and of course, a good amount of banana flavor. And because there isn't any real alcohol presence in the flavor or aroma, you can enjoy this beer without any real distractions. We would recommend that this beer is consumed between late spring and early fall, but the choice is obviously up to you. This beer doesn't have any extreme qualities, which makes it a somewhat versatile meal accompaniment, but we would suggest chicken, grilled veggies, salmon, or a lighter, sweet dessert.