Geographical Indication and Traditional Specialty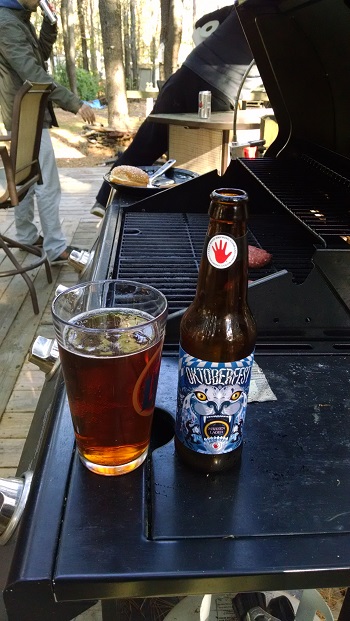 Brewery
and
Country
of Origin:
Left Hand Brewing Company
of
1265 Boston Avenue, Longmont, CO, 80501, USA
Date Reviewed: 12-30-14
The term "Oktoberfestbier" is a registered trademark among the six major brewers of
Munich
who participate in the annual
Oktoberfest
celebration. Every beer officially called an Oktoberfestbier, is one produced by either
Paulaner
,
Spaten-Franziskaner
,
Lowenbrau
,
Augustiner-Brau
,
Hofbrau-Munchen
, or
Hacker-Pschorr
, for the purposes of the Oktoberfest celebration. These beers, golden in color, are similar to traditionally pale malt heavy
Vienna
lagers and come between 5.50-6.00% ABV. And when you get a beer called "Oktoberfestbier," you know you're getting exactly one of these six specific examples, all of which are produced within the city of Munich. That is because the term itself is a Protected Geographical Indication (PGI) of Germany. PGI's are one of three European Union enacted geographical indication schemes which aim to promote the authenticity of various foods and beverages which are known for being produced in a specific location. Some well known examples of geographic indications include Fontina, Asiago, Parmigiano-Reggiano, Gorgonzola, Prosciutto Toscano, Balsamic Vinegar, Champagne, and Brie. The basic premise is that the product, let's say, Champagne, is promoted in two ways: first, it describes to consumers where the product was produced (
Champagne, France
); second, it ensures the quality of the product. This is because only recognized growers of grapes in the Champagne Appellation, which adhere to traditional practices, exist in a specific grape growing climate, and possess the knowledge and wherewithal to produce grapes good enough to produce high quality sparkling white wine known to you and us as Champagne. It is therefore technically illegal to call any sparkling white wine Champagne unless its grapes were produced there. The same principle applies for the term
Trappist Ale
. Trappist ales, though not protected by a geographic indication scheme, are essentially protected products similar to trademarks that only producers which fit strict criteria can label as such. Similar style beers that aren't officially Trappist ales, are "Abbey Beers." Oktoberfests follow the same general rule, though to a much smaller degree. The term Oktoberfest can mean both a harvest style festival happening during the months of September and October, or it can be the label of a beer similar to an Oktoberfestbier, but isn't one per se.
Date Sampled: 10-25-14 At: Puffin's Wilderness Refuge, Stab City, Blackthorne Resort, 348 Sunside Road, East Durham, NY, USA
Beer Style
:
Marzen/Oktoberfest
Alcohol by Volume: 6.60%
Serving Type: 12 oz Bottle, 16 oz Tumbler Glass
Rating: 2.83
Look
This Oktoberfest pours smoothly with a medium low amount of carbonation action, producing a thin, eighth inch tall foam head with an off white color, a medium high density, and a low level of retention. This beer displays a medium light effervescent effect, has a clear appearance with a bright copper shine and a brilliant glow in light. This beer contains no visible sediment and no settling. This beer shows off a moderate amount of lacing.
Aroma
As with most Marzen style beers, this beer has a good amount of medium roasted sweet toffee and caramel malt which dominates this beer's overall aromatic experience. This comes with a slightly present fruity, almost apple like secondary, and a nutty undertone. This beer's aroma does contain a very small amount of subtle hop notes and there are no alcohol or metallic tinges.
Feel
This is a medium bodied brew with an average level of carbonation, a medium low viscosity, and a medium weight which all give this beer a fairly easy going presence which is easy to drink overall. This beer has a slightly dull yet dry finish with a somewhat wet linger. The close does not contain any alcohol warming or bite and is actually somewhat crisp and refreshing.
Taste
Though this beer has a lower strength aroma, it helps set up a rather pronounced flavor profile that is headlined by a malt inflection full of caramel and toffee. This comes equipped with a nutty and sweet undertone. To balance, this beer's flavor comes with a small amount of dull hops which come out toward the end of the flavor profile. The finish is dry has a slightly bitter and malty aftertaste.
Our Take
To be fair, this is a beer which doesn't stand out. We will come out and say that while this beer did offer the expected trademark characteristics of a casual American style Oktoberfest beer, overall, we were fairly underwhelmed. This beer's dull finish, a lack of a real aromatic experience, and the absence of any authentic hop notes were its major shortcomings. Still, if you are looking for a somewhat generic, easy going fall beer that can be consumed in a variety of settings with a good amount of average acidity cheeses and lighter meats, then perhaps you may enjoy this specimen a bit more than we did. This beer did have a slightly higher alcoholic strength than most of the style, but that point proved moot. Obviously this beer (and the style per se) would disappoint anyone looking for a beer with a clean hoppy feel, and those searching for a heartier lager for the colder weather would be best suited with something else. But as we said, this is an alright option for a casual situation which is still in tune with the season.