"Issue The Orders Sir, And I Will Storm Hell."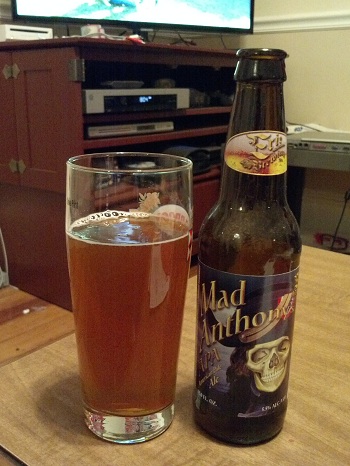 Brewery
and
Country
of Origin:
Erie Brewing Company
of
1213 Veshecco Drive, Erie, PA, 16501, USA
Date Reviewed: 12-06-12
This is the third
Erie Brewing Company
beer that
we've reviewed
, with the others being
Presque Isle
, and
Misery Bay
. If you know your
American
history, you'll know that all of these things have to do with America's early wars, including the
Revolutionary War
. One highly decorated and distinguished general of the Continental Army was Anthony Wayne, who played an important role in many key battles which ultimately led to American Independence from the
British
. Born on the first day of 1745 in an Easttown Township, PA, log cabin, Wayne was a College of Philadelphia graduate (Now U. Penn) and a professional surveyor before quickly rising through the ranks of Colonel, Brigadier General, and Major General during the Revolution (1775-1783). During his time as a General, Wayne became famous for his rather quirky and spirited behavior, as well as his military prowess, earning him the nickname "Mad Anthony." He wasn't actually mad, as it was defined back then as being mentally insufficient. Rather, he had a more passionate personality. He had great success, as well as loss, and he even had to resolve a mutiny over pay and living conditions while commanding the Pennsylvania Line. He later became a congressmen for the State of Georgia, serving a short term before eventually being called back by President George Washington to help command the infantry involved in the Northwest Indian War, which up until that point was becoming a serious disaster for the US. Once again fighting the British (who were now in allegiance with Native Confederacies in the region), Wayne demonstrated his superior military strategy while in command of the newly formed Legion of the United States. As a testiment to his resilience, a tree fell on his tent one night, delivering a blow to Wayne's head. Though he was unconscious that night, he was able to recover sufficiently enough to resume the march the next day. His intelligence led US Forces all the way up through the Battle of Fallen Timbers, a decisive US victory which ended the war, and brought the Treaty of Greenville in 1795. The Treaty essentially paved the way for the State of Ohio to become a part of the United States in 1803. A year after the treaty, Wayne died from the serious co-morbidities of gout, and buried at
Fort Presque Isle
. His body was dug up in 1809, to be transferred to the where his son lived back in Southeastern PA. As legend has it, many of his bones were lost on the road journey from Presque Isle to the cemetery at St. David's Episcopal Church, and today Anthony Wayne's ghost wanders the highway known today as US Route 322 in search of his misssing bones. Wayne's Legacy has spanned from commemorative stamps, to suspension bridges, monuments, towns, counties, cities, and among other things, this
American Pale Ale
from the Erie Brewing Company.
Date Sampled: 11-30-12 At: 7 Prescott Place, Allston, Boston, MA, 02134, USA
Beer Style
:
American Pale Ale
Alcohol by Volume: 5.50%
Serving Type: 12 oz Bottle, 16 oz Stange Glass
Rating: 2.95
Look
Mad Anthony's has a slightly hazy appearance glowing with a dull shine in the light with its lighter amber glow. A very small amount of fine sediment material contributes to this beer's appearance. This beer pours smooth with a fairly light amount of carbonation action, producing a very thin foam head and a somewhat moderate amount of lacing on the glass.
Aroma
Though this is a pale ale, this beer has a malt dominated aroma, clearly emphasizing a sweet, toasty, and roasted character. There are still a good amount of hops present in the nose, but overall this beer has a mostly faint aroma, contributable to the weak foam head.
Feel
This is a medium light bodied beer with a low, weak amount of carbonation, giving it a dull feel overall. This beer has a medium low viscosity, and a light amount of weight, making it easy to drink. This beer lingers for an average amount of time, with a slihgtly dry finish and a dull, unclean wet feeling.
Taste
As hinted in the aroma, this is a relatively sweet beer with good deal of roasted malt in the beginning half of the flavor profile. This brew returns to normalcy as it finishes with a hops dominated flavor and bitter, but short lived aftertaste, accompanied by a slight dryness.
Our Take
Historical references aside, this is a pretty straight forward brew, with a bit of quirkyness in the amount of malty character it has. Outside of a fairly sweet beginning taste and a mostly malty aroma, this beer is simply a good go-to option for a nice, casual beer which delivers a bit of substance, but is still easy to drink. This beer comes up short in a few places, including a basic appearance, anemic foam head and aroma, and a slightly conflicting flavor. But overall, this is a good beer which we think most people should have no problem enjoying. This beer is well balanced despite the malty beginning, and adds a nice hoppy note afterward. Its easy going style makes it drinkable during any part of the year, mostly because it's not heavy, and it isn't too light either. It is a lighter beer though, which makes it more suitable for light meals like white fish, vegetables, and poultry.