Val d'Or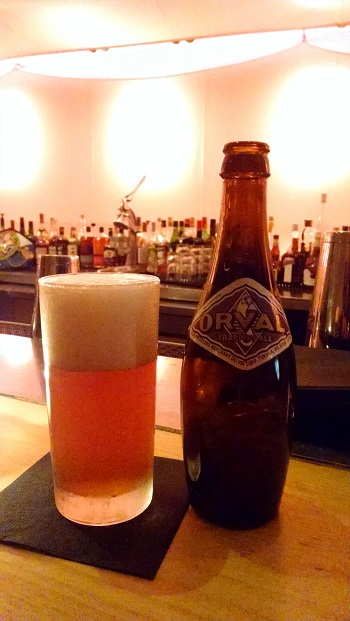 Brewery
and
Country
of Origin:
Brasserie d'Orval S.A.
of
Abbaye de Notre-Dame d'Orval, Villers-devant-Orval, 6823, Belgium
Date Reviewed: 2-05-15
A coat of arms was historically, speaking, a graphic or design used by a municipality or entity to readily identify a medieval knight in battle. This heraldic display would identify a nationality, town of origin, family, or other group and incorporated various elements significant to that group. For example, the
Irish Coat of Arms
features a golden harp, which has become a national symbol. The harp can trace its origins back to the 12 and 13th centuries while being used to distinguish old Irish currency as well as appearing on some of the oldest illustrations of coats of arms. Officially, the Harp became the symbol of what would become Ireland in 1541, when King Henry VIII stated that the instrument would become the symbol of the Kingdom of Ireland. Since then, the golden harp became as ubiquitous as the Shamrock, appearing on every
Guinness
pint glass, Ireland's version of the Euro, passports, stamps, and the vertical stabilizers of every Ryanair 737. The
Orval
Abbey is a Cistercian
Trappist
monastery in
Belgium
which was first founded in 1132. Though the monastery had been destroyed numerous times by war and fire, the monastery maintains a vibrant spiritual life which is deeply rooted in the local history and community. Since 1931, the monastery has been brewing Trappist beer, named Orval. The name "Orval" as well as the abbey's coat of arms are both derived from a local legend about the circumstances which helped establish the abbey's foundation. According to this legend,
Italian
noblewoman and principal supporter of Pope Gregory VII, Matilda of Tuscany, was visiting the site of the future monastery. She had been recently widowed, and, to her distress, lost her wedding ring in a spring. When she had prayed for the ring to be found, a trout appeared at the surface of the water, holding the ring in its mouth. With much relief, she exclaimed "Val d'Or" meaning Golden Valley, which serves as the origin of the abbey's name. As a thank you, Matilda of Tuscany offered the funds needed to establish the abbey. The coat of arms display a trout and a ring on the surface of the water, and the brewery uses the design as its logo. Today, the spring still supplies the brewery with fresh water. As with all Trappist beer, Orval is sold for the purpose of funding the monastery's operations as well as donations made to local charities. Aside from special cheese, the brewery also makes Petite Orval, which at 3.5% ABV is a bit of a "light" version of the main beer.
Date Sampled: 11-29-14 At: Ma Peche, Chambers New York Hotel, Midtown, 15 West 56th Street, Manhattan, New York, NY 10019, USA
Beer Style
:
Belgian Pale Trappist Ale
Alcohol by Volume: 6.20%
Serving Type: 11.2 oz Bottle, 12 oz Stange Glass
Rating: 3.92
Look
This pale Trappist brew has a choppy pour which generates a high amount of carbonation action, leading to a thick, full one and a half inch tall foam head with a white color, a high level of retention, and a medium high density. This beer has a somewhat hazy appearance with a good amount of fine sediment included. This beer displays full lacing on the glass and a full, bright golden glow in light with no shine. This beer has a medium high amount of effervescent effect and no visible settling.
Aroma
This beer gives off a fairly strong yeast note with a good amount of clove spice and sweet fruity banana aromas. There are some medium lightly roasted malty notes to accompany, as well as a subtle presence of somewhat dull, weak hops which come with a hint of citrus. This beer's aroma does not contain any metallic or alcohol tinge. There are some slightly soapy secondary notes present, an earthy undertone, and some herbal like spices included. This beer has a medium strength aroma overall.
Feel
This is a medium light bodied brew with a good amount of carbonation, a medium low weight, an average viscosity, and a fair amount of drinkability. This beer comes with a relatively high amount of alcohol bite at a fairly dry finish, especially for a beer of moderate ABV. The finish lingers for some time, leaving the mouth fairly thirsty. This is a mostly crisp and refreshing beer which is better for warmer weather, though generally season agnostic. This beer is crisp yet smooth with no texture added from the sediment, and comes with a slight warming effect at the close.
Taste
Overall, the flavor of this beer is pretty mellow and clean tasting with a well balanced profile. This beer contains a noticeable, lightly roasted caramel malt with only a small amount of sweetness mixed in with a somewhat piney and herbal delicate floral hop presence. This makes for a somewhat bitter and slightly yeasty aftertaste which lingers somewhat along with a fairly dry finish. This beer's flavor also comes along with a slight alcohol tinge at the close. This beer's yeast notes come along with the traditional clove and banana notes.
Our Take
There are currently ten officially recognized Trappist breweries
around the world
, with Brasserie d'Orval being the sixth oldest, having been established in its current form in 1931. Since then, this beer has been produced as the main beer of the brewery and has gained its fair share of accolades throughout the decades. This is in fact a very good Trappist beer which is bottle conditioned. That means that you should buy a few, try one now, try one in a couple of years, and then keep one for the long haul. This beer is fairly easy to drink and is best suited for the warmer months. This brew offers an aromatic experience with complex spicy and herbal notes as well as an absence of any alcoholic tinge, which of course, is a good thing. This particular Trappist ale is well balanced, yet complex and offers a good amount of diverse traditional Belgian style notes, without delivering anything too overpowering. This beer's spices, fruity, and sweet malt notes make it a good pairing option for leafy salads, tangy, moderately acidic cheeses, seafood, and of course, the inevitable box full of Savannah Smiles girl scout cookies, which feature a lemon dominated flavor which pairs well with most Belgian pales.