British Invasion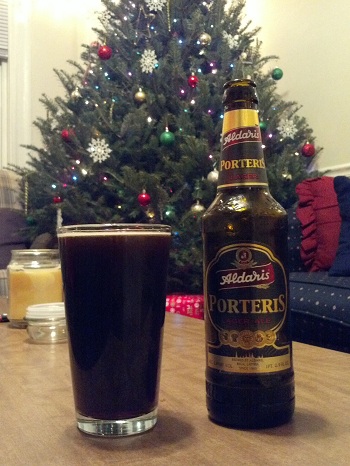 Brewery
and
Country
of Origin:
Aldaris Brewery
of
Tvailka Iela 44, Riga, 1005, Latvia
Date Reviewed: 1-02-13
As we know from our discussions of
Poland
and
Estonia
, it seems as though the Eastern portion of Europe was historically getting the short end of the deal on a regular basis. And though at the time of writing this particular review of a
Baltic Porter
we had not yet written
the page of its country of origin
, we can assure you that Latvia's modern era history hasn't been all that grand either. But that was then, and this is now. Fortunately for the Latvians who can remember
Soviet Control
, their breweries weren't subject to as strict operational laws which led to the closure and state control of many well known
Polish breweries
. This dark beer is produced by
Aldaris Brewery
, the largest and one of the oldest breweries in Lativa. And though they mostly produce
Pale Lagers
, they are also the maker of Porteris, a Baltic Porter. And as you would imagine, the important bit there is the word "Baltic." Yes, this referrs to the region of Europe where the style is most popular, but despite its name and selling figures, it's actually a
British
import. We know they were the ones to pioneer the brewing of the porter, and although the
Irish
decided they wanted nothing to do with it, the Porter did spread through much of Europe, including the Baltic Sea. For sale specifically in Baltic countries, British breweries first made a special porter brewed with top-fermenting yeast in the 18th century. These beers had many similarities to imperial stouts, including alcoholic content. Usually ranging between 7-11%, Baltic Porters are strong, malty, and dark colored with a robust flavor profile, slightly acidic flavor, and a slightly smoky/roasted character. The
style
was such a big hit that the local breweries across the region began making their own version, though these ones were cold fermented like lagers in order to be compatible with locally sourced ingredients. Baltic Porters remain a local favorite today with many breweries including one in their typically lager dominated range of products.
Date Sampled: 12-21-12 At: 7 Prescott Place, Allston, Boston, MA, 02134, USA
Beer Style
:
Baltic Porter
Alcohol by Volume: 6.80%
Serving Type: 500 ml Bottle, 16 oz Tumbler Glass
Rating: 2.58
Look
Porteris has a somewhat hazy appearance caused by only a small amount of sediment only visually present at the bottom. The color is a very dark reddish brown with almost no glow or shine, giving it an opaque like appearance. The pour is mostly smooth with a moderate level of carbonation action, giving this beer a quarter inch foam head with a medium low density and a low retention. There is only a very little showing of lacing.
Aroma
This beer has a medium strength aroma dominated with caramel and roasted malt and overlayed with a general sweet tone. There is some grainy smell in the mix, as well as a slight metallic tinge. A moderate level of alcoholic aroma is detectable, and there are no hoppy notes to speak of.
Feel
This is a medium bodied brew with a fair amount of weight, yet a medium light viscosity. This beer is mostly smooth with a below average level of carbonation, no real crispness, and a good amount of dull lingering at the finish. This beer finishes a bit wet with some unclean feel.
Taste
Roasted caramel malt is what you'll expect with this one. A good deal of sweetness is immediately present, no fruity or bitter notes. A secondary level of grainy flavor as well as some alcoholic tinge are both present throughout. The beer starts off with some biscuity and nutty flavors as well. The aftertaste is slightly metallic with a good amount of lingering. Some roasted bitterness is present as well.
Our Take
Unfortunately, this style has a history slightly soiled with a propensity for brewing imperfections, as well as using subpar brewing ingredients, and it shows here. This beer's unpleasant aroma, distracting alcoholic character, and unapologetic metallic, dull, and unclean aftertaste are big negative aspects of this beer from Latvia's capital city. At first, this beer does have a mostly nice beginning flavor profile, as well as an appearance which is consistent with the style. Sadly, not much else can be said about this beer in a good way. In
the US
, Baltic Porters have yet to make a surge in popularity like many other regional styles have since the dawn of American craft beer. Hopefully others can come along which may help bring this quirky and exciting style to the land of the free and the home of the brave. Unfortunately, Porteris isn't going to make that the case for us.