"There are three things I have learned never to discuss with people: religion, politics, and the Great Pumpkin."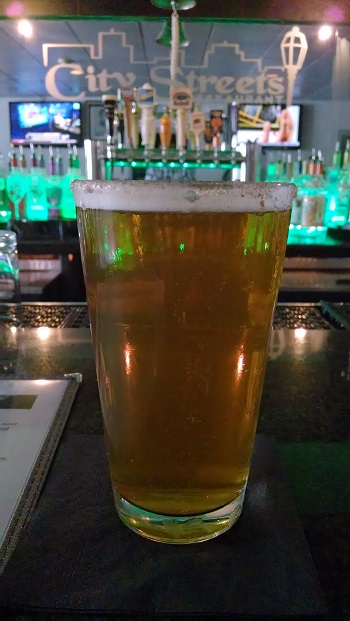 Brewery
and
Country
of Origin:
Shipyard Brewery
of
86 Newbury Street, Portland, ME 04101, USA
Date Reviewed: 11-18-13
They say if at first you don't succeed, try again. At the same time, they (whoever
they
are) also say that the definition of insanity is doing the same thing over and over again and expecting different results. So either everyone is playing a big perpetual prank on failures, or everyone's confused. Either way, we respect tenacity. Whether it's a football team who hasn't made the playoffs since 1999, or Thomas Edison, there's something to be said about not giving up. Charles M. Schulz made Charlie Brown famous for his continuous failure through life. But another story from within the Peanuts Gang tells of a kid who, in spite of consistent ridicule and skepticism, goes out to a pumpkin patch, and optimistically awaits the a mystical figure known to you and us as
The Great Pumpkin
. Over the course of Charlie Brown's chronology, we become familiar with this annual ritual, carried out by none other than hopeful Linus van Pelt (Lucy's younger brother). Each and every Halloween, rather than heading out trick or treating with his friends, Linus sits in a pumpkin patch and waits for the Great Pumpkin, a holiday spirit akin to
Santa Claus
. One time he mistakes a passing bowling ball for the spirit. And every year, he is humiliatingly let down, made fun of by his friends, and criticized by Sally. Yet at the end of every Halloween, Linus vows to wait again the following Halloween. Of course, our idea of The Great Pumpkin does show up every year, but it doesn't come with mystical powers or endless wisdom (though with enough of them, it may make you think that it does). No, we're talking about
Shipyard
's popular Pumpkinhead
pumpkin ale
. This is a (recently) mainstream rendition of a fall seasonal genre that is somewhat hit or miss. We happen to enjoy the fall season, with Pumpkinhead being one of the reasons. But a lot of people are adverse to it's rather unbalanced, sweet, and nearly overwhelming pumpkin character - perhaps more apparent here than in any other beer we've had to date. But we say, 'tis the season, why not go the extreme? And at the very least, if you aren't a fan of this ale commonly served with a glass rim of cinnamon and sugar, winter is just around the corner.
Date Sampled: 9-06-13 (12-02-10 original) At: City Streets Restaurant, 249 Lexington Street, Waltham, MA 02452, USA
Beer Style
:
Spiced Pumpkin Ale
Alcohol by Volume: 5.10%
Serving Type: Keg, 16 oz Tumbler Glass
Rating: 3.89
Look
Pumpkinhead pours smoothly with a medium low amount of carbonation action, producing a half inch tall foam head with a low retention level, a medium low density, and a white color. This beer displays an average amount of effervescent effect, in a clear, filtered appearance with no visible sediment, and a bright, light amber golden shine. This beer is served with a rim of cinnamon and sugar and displays a moderate amount of lacing.
Aroma
This beer has quite a spicy, malty aroma full of cinnamon and nutmeg with a good deal of pumpkin pie like character. This beer's aroma is derived from medium light roasted malt and only a small amount of very faint and dull hops. Overall, the aroma is pretty sweet with no detectable alcohol tinge, no real bitterness, and has an above average strength.
Feel
This is a medium light bodied brew with a low weight and a low viscosity. This beer is crisp and fairly refreshing overall with a slight colling effect at the finish. Light overall, this beer is easy to drink, casual, and has a moderate level of carbonation. No alcohol warming or bite makes an appearance and the closing is somewhat dry with a short lingering after effect.
Taste
Rich sweet malt and a good deal of spicy character dominate this beer's fairly strong profile with some noticeable pumpkin pie, cinnamon, nutmeg, and biscuity like flavors. This is somewhat kept in check with a small, but noticeable amount of trailing hops leading toward a somewhat lingering malty finish. This beer is also slightly nutty with a sweetness enhanced with a cinnamon and brown sugar rim typically served with a pint of this beer on tap during the autumn season. There is also a somewhat dry finish.
Our Take
Overall, you're going to want to drink this beer with some Thanksgiving/fall oriented food. This beer's rich flavor, full aroma, and ease of drinking make it a great football tailgater with a great amount of festive character, that you'll either love or hate, depending on your views of fermented gourds (well, squash). This is a sweet beer which offers little in the way of bitterness, so do not replace your traditional APA or ESB with one of these, unless you're up for a change. And though we suggest drinking this with cranberry and sweet potato infused stuffing inside a gravy topped TurDuCken, this beer's lighter body makes it a versatile drink that goes well with just about any meal. Sure, there are less "in your face" pumpkin ales out there which offer a more balanced experience, and sure, there are other fall beer options to get you in the
festive mood
, but unless you're morally opposed to natural additives, we suggest you instill your own fall ritual by going to a pumpkin patch, and spend the night waiting for The Great Pumpkin while watching the stars and the moon go by... with a Pumpkinhead in hand.