Not Sure What Richthofen Would Think of This, But We Like It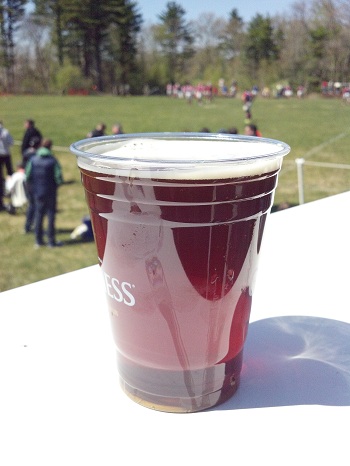 Brewery
and
Country
of Origin:
Blue Hills Brewery
of
1020 Turnpike Street, Canton, MA 02021, USA
Date Reviewed: 4-30-12
Manfred von Richthofen had many nicknames given to him by the
Americans
,
Brits
,
French
, and
Germans
, including:
Little Red, The Red Battle Flyer, The Red Fighter Pilot, and The Red Knight
. But none of these names stuck like
The Red Baron
. Derived from the English meaning for Freiherr, and the trademark red paint of his Luftstreitkrafte Fokker Dr.I Triplane, The Red Baron was the unofficial nickname given to the historically significant fighter pilot who shelled more than 100 allied aircraft, making him a menace to the Royal Flying Corps. Funny though, as this is no German beer. This isn't even a German style of beer. This is a beer modeled after the Allied Forces'
Irish
red ales. Interestingly enough, this would not have been true if the war ended two years later, when the British Empire lost Ireland due to civil unrest and the Irish War of Independence, two years after the Treaty of Versailles was signed in 1919. So perhaps the name for this beer wasn't the best choice, but that just may be its biggest flaw (of only a few).
Date Sampled: 4-28-12 At: The Boston Irish Cultural Center, Canton, MA, USA
Beer Style
:
American/Irish Red Ale
Alcohol by Volume: 5.00%
Serving Type: Keg, 16 oz Plastic Disposable Cup
Rating: 3.37
Look
A clear, rich deep red color invites the
Red/Amber
ale fan to indulge. Looks great in the sunlight - see picture above. The beer pours somewhat choppy, producing a moderate amount of carbonation action building a frothy half inch foam head. The beer displays only very little amounts of lacing - which may have been attributed to the serving vessel.
Aroma
This beer features a subtle malty and slightly hoppy set of aromas that don't overpower your nose. These aromas reflect traditional Irish and American red style ales. Some caramel and toffee like aromas hint at the deep malty flavors of this brew.
Feel
The Red Baron is a medium bodied, moderately carbonated, and lighter finishing brew. The finish does not linger, and this beer has a low viscosity, while its pour creates an elevated level of activated carbonation.
Taste
Blue Hills has made a fairly malty beer with some slightly sweet/biscuit notes which are somewhat reflected in the overall aroma. The Red Baron finishes slightly hoppy, but only with a very subtle lingering aftertaste. Toasty and somewhat complex malt notes define this brew's classic Red Ale character.
Our Take
Its a bit ironic when you think that this beer, belonging to a style which was served primarily to people in support of the Allies, is named for a man known for shooting them down during Earth's second costliest war. Regardless of how curious the name choice was, this is definitely a good beer. Traditional ale fans, especially those who enjoy maltier reds and ambers, should definitely partake in this American version. Nothing amazing, and nothing ground breaking here, but definitely a solid, great go-to beer that can be enjoyed with a wide variety of foods (especially Curry Fries), and during all times of the year. A true American Irish Red Style Ale which will deliver a genuine style experience. Perhaps this isn't a beer meant for German WWI reenactment artists, but based on first hand experience, we can assure you it goes great with a game of Rugby.