The Cadillac of Beers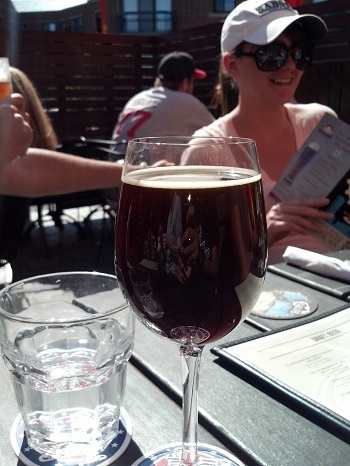 Brewery
and
Country
of Origin:
Brouwerij Rodenbach N.V.
of
Spanjestraat 133, 8800 Roeselare, Belgium
Date Reviewed: 6-04-13
You ever hear the phrase, "He/She's the Wayne Gretzky of ____?" In a way, the title "Grand Cru" applies to beer. If you're a bit of a wine enthusiast, then you'll already know that the word
cru
refers to wines whose grapes grow in exceptional areas, known as
terroir
. Both of these are
French
wine terms. Cru means growth, while the terroir is the combined environmental result of an ideal climate, topography, top soil, and other things. If these things are just right, wines made with grapes sourced from these locations are considered Premier or Grand Cru, depending on the level of quality. Grand Cru wines are considered highest. The word cru is applied to various wine labels to indicate that the wine was grown in the ideal conditions for both the particular region of France, and the type of wine produced. Generally, wineries with the cru classification have better reputations than those which do not. Reflecting the sophisticated and complex world of wine, both brewers and chocolatiers around
the world
have applied the label to their products to denote variations of their products which are of higher quality or complexity. Grand Cru chocolate is made with cocoa sourced from coveted plantations or producing regions, while breweries use the term to indicate that certain brews are "halo" (high end) beers, or simply, better versions of a brand they already produce. Or, if you prefer cars, think of these beers as Limiteds, LTZs, Titaniums, GTs, -R's, M-'s, AMGs, RS-'s, -F's, -V's, SVTs, -S's, SuperVeloces, Abarths, or SRTs. You get the idea. Anyway, the trend of adding the label "Grand Cru" to a beer is still a fairly novel idea, but as more breweries join in on the idea, expect another premium beer category to be born.
Date Sampled: 5-27-13 At: Deep Ellum, 477 Cambridge Street, Allston, MA 02135, USA
Beer Style
:
Flanders Red Ale
Alcohol by Volume: 6.00%
Serving Type: Keg, 10 oz Wine Glass
Rating: 2.97
Look
Grand Cru pours smoothly with a low amount of carbonation action, producing a thin, eighth inch tall weak, medium low density foam head with a low retention rate. This beer has a deep red color with a small amount of very fine sediment which gives this beer a hazy appearance with a moderately dull shine and a somewhat bright glow in the light. This beer has an average amount of lacing.
Aroma
This beer's aroma is very strong with a prominent sour and bitter citrusy character, complemented with sweet banana and some darker malty notes to balance. This beer also has some hoppy bitter tail end smells with a good amount of nuttiness and a prominent clove secondary. The aroma has a small amount of alcohol tinge.
Feel
This is a medium light bodied brew with a very dry and bite like finish, delivering quite a crisp and pretty refreshing experience. This beer has a medium low amount of carbonation, a low viscosity, and a low weight, making it fairly easy to drink, even in hot weather. This beer has a pretty smooth texture overall, with no real impact from the inclusion of the small amount of sediment.
Taste
Immediately present and implied from the style as well as the aroma, is this beer's full sour and fruity profile, which offers an overpowering citrusy and sour experience. This aspect has too much bite for most people. This beer's flavor is somewhat balanced with the presence of a small amount of bitter hops in the finish as well as a some darker malt toward the beginning. Overall, however, most people will find the sourness of this beer, which is also present in the aftertaste, to be a bit too overwhelming.
Our Take
As you just read, this beer is not going to be enjoyed by most. But for those who are fans of
Flanders Reds
, you're going to really like this one. This beer's trademark dry and sour fruity character fits all of the key
Flanders
aspects, and this beer's lighter presence makes it acceptable for the coming hot months. If you're into trying something rare and new, then this may be just the thing your looking for. The style overall is like nothing native to
US
brewing, as it is an imported style from
Belgium
, but just note that this style has a very sour and fruity character. Some citrusy notes make their appearance, and overall, this beer is an aromatic, flavor intensive experience which you will either love or hate. For us, we've reviewed and rated some Flanders style beers
in the past
, but this one was a bit too unbalanced in the sour fruit department for us to fully enjoy. Still, if that's your thing, we'll tell you that you'll absolutely love this brew.