Time of the Saison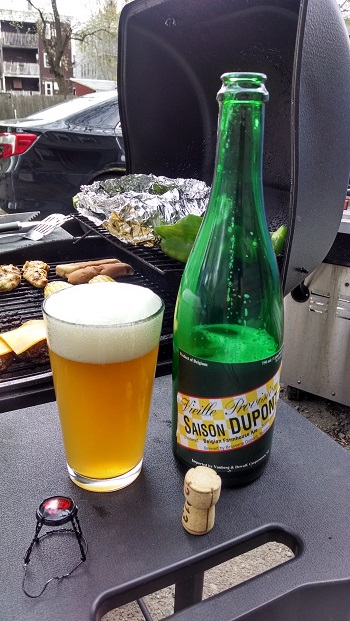 Brewery
and
Country
of Origin:
Brasserie Dupont SPRL
of
Rue Basse 5, Tourpes, 7904, Belgium
Date Reviewed: 8-27-14
Last year we reviewed a beer called
Tank 7
, a
farmhouse ale
from Kansas City brewer
Boulevard
. And it was during that review that we went on about the origins of the Saison - a related, but generally stronger
style
of pale ale. Pradictably being
French
for the word "season," this style of beer is brewed during the winter time and brought out for the warmer months of summer, when lighter, more refreshing beers would be desired. The original farmhouse ales would top out at no more than 3-3.50% ABV, but it has become commonplace for commercial examples to range between 5.00 and 8.00% ABV. This is mostly due to the fact that the saison was considered to be a dying style until the 1980s, when a saison from the
Dupont Brewery
of the Wallonian region of
Belgium
started to become a popular import to
The United States
. The brewery brews both a traditional saison holding a 3.50% ABV, and the Saison Dupont, the modern take on the farmhouse which has garnered numerous international awards, and is the beer responsible for making saisons popular in the United States. The beer uses traditional pilsner malt and Kent Goldings as well as Styrian Goldings hops which are added in to the
wort
both at the beginning and toward the end of the boiling process so that the beer's hop profile is well rounded and robust. Before this practice, the beer was dry hopped like certain IPAs, but the two part hop infusion process was favored. The beer is bottled in 750 mL champagne style green glass bottles built to withstand this beer's unusually high amount of carbonation. This is a product of the particular yeast strains used in Dupont's farmhouse, as well as those which replicate the style. The yeast strains ferment at warmer temperatures - about 20 degrees F warmer than the standard 64-75F that normal Belgian saisons are brewed at. This helps catalyze the
fermentation
process which creates both ethanol and carbon dioxide. The beer has been credited with restarting the style as an up and coming popular pale ale fit for summertime, and many commercial brewers around
the world
model their saisons after that of the Dupont Brewery.
Date Sampled: 5-03-14 At: 7 Prescott Place, Allston, Boston, MA 02134, USA
Beer Style
:
Belgium Saison/Farmhouse Ale
Alcohol by Volume: 6.50%
Serving Type: 750 mL Bottle, 16 oz Tumbler Glass
Rating: 4.01
Look
Saison Dupont pours in a very choppy manner with a high amount of carbonation action, producing a tall, fairly dense foam head with a good retention, a slightly off white color, and a creamy texture. This is a cloudy beer with the inclusion of a lot of average sized sediment particles and some settling. This beer has a bright golden orange yellow glow with no shine, a low amount of effervescent effect, and a display of full lacing.
Aroma
This beer being a saison, is full of typical floral and herbal notes from a soapy and piney hop prominent aroma. The aroma is bitter overall with some grainy and grassy malt notes normally found in farmhouse ales. This beer also gives off a hint of alcohol tinge, but no metallic notes. The aroma is complex is fairly strong overall. There are no nutty notes and no sweet inflections.
Feel
This is a medium light bodied beer with a good amount of carbonation, a lighter than average weight, a below average viscosity, and a very dry finish. This beer delivers a good amount of refreshment and a clean, crisp finish which goes well with the hot summertime. This beer is slightly cooling and contains no alcohol bite or warming effect. This beer has no texture from the included sediment and feels smooth and crisp overall.
Taste
This ale is very hoppy overall with strong pine and herbal notes emanating from this beer's hop heavy flavor. This is somewhat balanced with a good amount of pale malt and grassy and slightly nutty undertones from this beer's light malt. This does not give off any sweet flavor. There are also strong lemony citrus notes mixed in with a subtle Belgian style yeast flavor delivering the traditional banana and clove flavors expected of the style. This beer has a lingering bitter aftertaste with a dry, clean finish with no alcohol or metallic tastes.
Our Take
In the summer of 2005,
Men's Journal
magazine gave this beer the distinction of being named "The Best Beer In The World." While we wouldn't necessarily agree with that level of aggrandizement, this is definitely a great beer. And in the summer, it is that much better. This pale ale delivers a complex and robust aromatic experience which helps enhance a hop dominated, yet well balanced distinct flavor profile. This beer has a good deal of lighter pale malt and fruity notes which help keep a very bitter and piney flavor in check. Overall, this is an excellent summertime beer, but because this is a more modern saison with a bit more presence, this beer would actually go well into the fall and springtime as well. This floral beer would go well with sweet and lighter dishes like light salads, sweet desserts, and poultry, as well as mild soft cheeses.