"Should Scotland be an independent country?"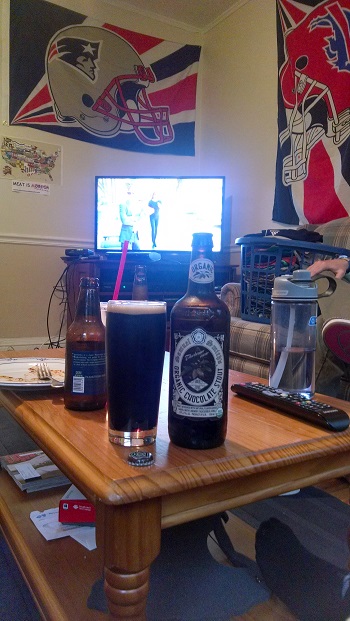 Brewery
and
Country
of Origin:
Samuel Smith's Brewery
of
High Street, North Yorkshire, Tadcaster, LS24 9SB, England, UK
Date Reviewed: 9-18-14
Today, as you may or may not know, is the day when the voting population of Scotland decides whether they believe they should break off from
The United Kingdom
and become independent, or stay, well... united. Officially known as the Scottish Independence Referendum, the vote is essentially a single question asking Scotland's electorate of some 4.3 million voting aged Scots (16+), "Should Scotland be an independent country?" The polling will run until 10:00 PM BST and the results will be announced around 7:00 AM BST tomorrow, or about early morning for us in
the US
. As of yesterday, the polls revealed that the population was nearly split right down the middle, with more than 49% of the country polling yes, and less than 51% deciding no. In order for the Independence Bill to pass, the referendum only needs a simple majority to vote yes. In the event the majority does in fact vote yes, Scotland would become an independent country after "a process of negotiations." If the majority votes no, Scotland will remain with the UK, but more power would be devolved toward its own government as a result of a UK devolvement act which received royal assent (approval by the Queen) in 2012. Millions of pounds have been donated to both main political groups holding that their side's decision would be better for the country of Scotland, whose potential independence would bring up tough questions about infrastructure, energy policy, health care, general public spending, and defense, which includes British nuclear weapons located in Argyll. While Scottish Parliament and the rest of the UK have agreed on the Independence proposal bill, both PM David Cameron and Queen Elizabeth II have expressed their need for caution regarding the decision. Cameron has stated that a decision to leave the UK would be a "Once and for all" deal, meaning that Scotland would never be able to join again. The Queen has remained neutral on the issue, but hoped that the people of Scotland would "think very carefully about the future." As for the pound on international Forex markets, it has dropped by nearly one cent against the dollar every day in early September, and global markets are taking a cautious approach to European financial markets, of which the UK is a major player. Many major financial institutions headquartered in Scotland have already stated that they would probably relocate to London in the event of Scottish independence, though jobs would most likely not be replaced. Other industries, including manufacturing, energy, and health care will be greatly affected as well. As for the UK's
brewing industry
, the potential outcome of an independent Scotland have yet to be fully determined. For the most part, we don't see anything major happening in either Scotland or England, which means breweries such as
Samuel Smith's
can continue to brew
Taddy Porters and Chocolate Stouts
. And fortunately, we doubt that any of Scotland's breweries, like
Brew Dog
will shift their business model to single malt scotch.
Date Sampled: 5-16-14 At: 7 Prescott Place, Allston, Boston, MA 02134 USA
Beer Style
:
Milk/Sweet Stout
Alcohol by Volume: 5.00%
Serving Type: 350 mL Bottle, 16 oz Stange Glass
Rating: 3.79
Look
Sam Smith's Chocolate Stout pours very smoothly with a very low amount of carbonation action, producing a two thirds inch tall foam head with a medium high amount of density with a creamy texture, a tan color, and a good retention. This is an opaque beer with a nearly black, dark brown color with a very dull, deep reddish brown glow in very bright light with no shine. This beer contains no visible sediment and no visible settling or effervescent effect. This beer displays full lacing on the glass.
Aroma
As expected from any chocolate stout, this beer's aroma is bursting with strong, sweet malt dominating smells with dark roasted chocolate and some caramel and toffee like notes as well. This beer does not contain any coffee or espresso flavors, but does have a rich nutty undertone and a presence of prominent cookie/biscuity like notes. This beer's aroma also contains a bit of apparent metallic tinge. Overall, this smell is similar to chocolate syrup, rich and creamy. There are no real hoppy notes, fruit flavors, or any alcoholic tinge.
Feel
This is a full bodied brew with a medium high weight, a heavy and thick viscosity, and a creamy texture. Overall, this is a smooth and velvety beer with a full presence made for cold weather sipping. Essentially this beer is substantial enough to replace your existing dessert. There is a below average amount of carbonation and a dull, wet like finish at the end with no alcohol bite or warming, further adding to this beer's "slow and steady" presence. This is a very filling beer overall, like a thick milkshake.
Taste
An old fashioned, rich chocolate milk shake would be a comparable beverage to this stout in terms of how potent its primary flavor really is. This is a chocolatey beverage that is very malty and quite sweet with a creamy flavor. This beer is unbalanced with no hops and no fruity or citrusy notes detectable. This beer has a full, lingering malty aftertaste with a slightly present metallic tinge at the end. This finish does not contain any alcohol taste. There is a fairly noticeable biscuity and cookie like undertone.
Our Take
If you are a chocolate lover, this really is the beer for you. To an almost overwhelming degree, this dark stout exudes chocolate milk shake like familiarity, without the texture of ice cream. This is a very sweet and malty beer which should complement the heartier meat or dessert like dishes, but by itself, this is a substantial beer made for sipping. And even though this is a rather mild beer at only 5.00% ABV, this beer is meant for the fall and the winter seasons. Unfortunately, the presence of metallic tinge and a somewhat unbalanced overall presence were detrimental to this beer's overall score. For an English beer, there were no real hoppy notes to speak of, and the aftertaste was a bit thrown off by subtle, but unpleasant metallic taste. Anyone looking for anything with a bit more balance or some hoppy character should look elsewhere. Still, this beer his all of the right notes when it comes to a heavy hitting chocolate stout without any of the big stout high strength alcohol drawbacks.