"They've been going in and out of style, but they're guaranteed to raise a smile."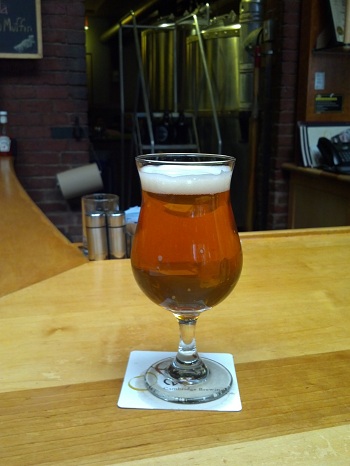 Brewery
and
Country
of Origin:
Cambridge Brewing Company
of
1 Kendall Square, #100, Cambridge, MA, 02139, USA
Date Reviewed: 2-26-13
Back in the day, long before you'd find info about beer on the internet, long before Justin Bieber was alive, long before the
Space Shuttle
was a thing of the past, life was good. The year was 1967. Mustangs had fastbacks, nuclear weapons in outer space were made illegal, Elvis was married, the NHL doubled in size to 12 teams, the
RMS Queen Mary
was out, the
Concorde
was in,
The Swedish
began driving on the right side of the road, and music... well, music was real. On the first day of June that year,
British Invasion Rock
sensation, The Beatles, released their eighth studio album,
Sgt. Pepper's Lonely Hearts Club Band
. The album won four Grammy awards, spent 27 weeks atop the charts, sold 32 million copies (mostly in an era where iTunes didn't exist, and pirated music actually meant physically stolen goods), and eventually became recognized by both
Rolling Stone
and
All Time Top 1000 Albums
as the greatest album of all time. Pretty impressive. But perhaps the album's greatest honor is a peculiar
farmhouse ale
from
Cambridge Brewing Company
. The album, much like its creators, is noted for its experimental style, combining a psychedelic, Mini driving, pot smoking tone with a classical orchestrated symphonic melody, laid against a rebelling British Rock N Roll backdrop. Quite the mix, and quite the results. And what makes that interesting in this situation is that CBC wanted a beer which challenged conventional norms, pushed boundaries, and test the tolerance of society... the local Eastern Massachusetts beer society in this case. Well, they seem to have hit it big with this one. This is a brew based on a
traditional style
which is usually restrained, delicate in taste, and refreshing. But the end result is anything but. And all of this is due to one little ingredient: peppercorns.
Date Sampled: 2-03-13 At: Cambridge Brewing Company, 1 Kendall Square, #100, Cambridge, MA, 02139, USA
Beer Style
:
Chile/Pepper Farmhouse Ale
Alcohol by Volume: 6.00%
Serving Type: Brewery Keg, 16 oz Tulip Glass
Rating: 3.94
Look
This beer pours somewhat choppy with an average level of carbonation action. This gives the brew a three quarters inch tall medium density foam head with an average retention. The color is rich amber gold with a good, brilliant shine in the light. There is no sediment, giving this beer a clean, clear appearance, and there is a low amount of lacing on the glass.
Aroma
The aroma is characterized by the inclusion of this beer's signature additive: fresh black, white, pink, and green peppercorns. These give off prominent spicy notes which are accompanied with floral hops (Magnum and Spalter) which make this a very sensitive smelling beer with some sharp, yet delicate aspects. There are some lighter rye and pilsner like malts present as well, and no alochol included.
Feel
This is a medium light bodied brew with a very nice pepper induced warming effect after the close. This beer has a medium level of carbonation, as well as an average weight, and a medium light viscosity. The peppery finish leaves a lingering tingle on the lips. The hoppy finish is somewhat dry as well.
Taste
There is a considerable amount of hops from beginning to end in a medium long lasting aftertaste. The presence of mild lighter malt helps to balance the flavor. But overall, this beer is known for its almost unforgivable spicy taste, which makes this beer the perfect pairing brew with any hot or spicy Tex-Mex, Spanish, Portuguese, or Mexican food. There is no alcohol in the flavor, and the finish is dry with a hoppy and spicy linger.
Our Take
At the 2012 World Beer Cup, Sgt. Pepper won the gold medal in the category for herbed and spiced beers. Quite an impressive feat from such a small scale operation. Since its conception on the 20th anniversary of the brewery, Sgt. Pepper has become a mainstay seasonal brew for the pub, located in the heart of Cambridge's tech district. It is available in both 22 oz bottles, and straight from the brewery at their brewpub location. And before you prematurely dismiss this beer because you're not really into hot foods, let's just remind you that sometimes, it takes a bit of trying and a good amount of patience for the appreciation to kick in. The Beatles and their music weren't without their critics, including
Paste
,
The New York Times
, and
The Villiage Voice
, all of whom weren't impressed with the album. Many others were originally turned off by the band's new style of music, which really had changed music forever. It wasn't until many decades after the band's breakup that original critics changed their minds and warmed up to the "new" music. And in many ways, the thought of a "spicy" beer is unsettling to many, enthusiasts and casual drinkers alike. But like beer itself, this peppery ale is an acquired taste. And it doesn't hurt to be a fan of
Mexican food
. At this point, we also have to mention that we've
reviewed a pepper infused beer before
, and that beer earned high marks as well. So perhaps this beer isn't for everyone. Not everyone likes The Beatles. But regardless of whether enchiladas or Yellow Submarines are your thing, you have to give respect to those who aren't afraid to create the new and unknown. That's why the Beatles are more popular than Elvis... barely; why prestigious European fashion shows look like freak shows; why impractical electric battery powered cars are popular; and why Sgt. Pepper is still brewed.