Beans, beans; they're good for your heart.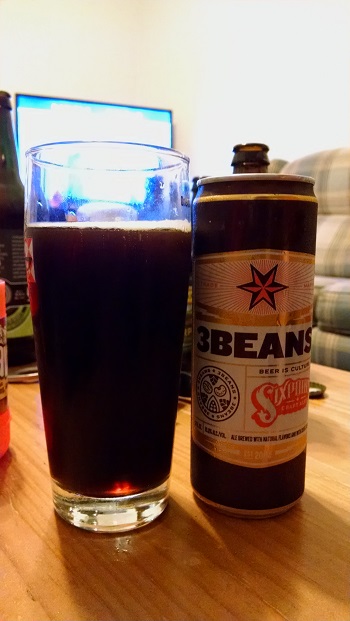 Brewery
and
Country
of Origin:
Sixpoint Brewery
of
40 Van Dyke Street, Brooklyn, NY, 11231, USA
Date Reviewed: 12-15-14
3Beans, as its descriptive name implies, is brewed with the inclusion of three strong and flavorful beans supplied by local companies of interest in New York City. The first is the Romano bean, an
Italian
variety of flat shaped snap green bean that is added to the
mash
prior to boiling. This practice has been used for centuries and serves to add body and substance to a beer when the proteins contained within the bean mix into the solution. This also contributes to the beer's rather smooth and somewhat silky feel. The first "bean-to-bar" chocolate makers in New York City, Mast Brothers Chocolate, contribute their Cacao beans which are also added to this beer's initial mash. According to
Six Point
's website, Mast Brothers specializes in very dark chocolate bars, most of which come with no added milk, cream, butter, or sugar so that each bar emphasizes each bean's unique cocoa flavor profile. Each bean is processed through a small scale winnower, a machine which removes the husks from the bean itself. The husks, which also contain rich chocolate flavors, are also added to the beer's mash, along with the beans and the rich barley malt, further adding to this beer's bold dark chocolate character. Mast Brothers has their factory in Brooklyn and offers tours and tastings daily. They also make a chocolate called Stumptown Coffee, a 73% Cacao chocolate bar which gets its name from the Stumptown Coffee bean, which is also used in the making of 3Beans. Once fermentation has taken place, 3Beans is blended with cold-brewed Stumptown Coffee, adding another fully fledged aspect of this beer's rather complex malty profile. Stumptown Coffee has multiple locations based in Portland, Los Angeles, Seattle, and New York. Once this blending process has finished, the beer is conditioned in casks of toasted American Oak, adding an earthy, wooden undertone, a vanilla secondary, and a fuller body. The beer was first made available in early 2013.
Date Sampled: 8-23-14 At: 7 Prescott Place, Allston, Boston, MA 02134, USA
Beer Style
:
American Baltic Porter
Alcohol by Volume: 10.00%
Serving Type: 12 oz Bottle, 12 oz Stange Glass
Rating: 3.10
Look
Three beans pours very smoothly with a low amount of carbonation action, producing a very thin eighth inch tall foam head with a tan color, a moderate density, and a low retention rate. This beer displays an average amount of lacing on the glass. This is a hazy and opaque beer which contains a high amount of fine sediment, giving this beer a dull dark brown color with no shine and only a faint glow even in bright light. This beer does not show any settling and no effervescent effect is seen.
Aroma
This beer has an immediately noticeable, rather harsh aroma full of burnt roasted bittersweet malt that is nearly overpowering and contains a detectable metallic tinge. This is mostly made of dark chocolate and dark coffee. This beer is held back by a persistent presence of alcohol smell in the aroma, which takes a great deal away from the overall experience, even though this beer does in fact have a rather elevated alcohol content level. This beer's aroma does not contain any real hop presence. There are some nutty and slightly bread like undertones.
Feel
This is a full bodied brew with a strong alcohol bite throughout, possibly one of the most noticeable presences of alcohol in any beer we've had to date. This beer has a deep, heavy warming linger with a dull, wet sort of finish with no dryness or crispness. This is a sipping beer with a high viscosity, a medium high weight, and an average amount of carbonation. This beer is better suited for cold weather. This is a smooth beer overall with no texture from the sediment.
Taste
A strong wheat, coffee, and dark chocolate flavor mix immediately coats the entire mouth ushering a full malty presence that is more sweet syrup and chocolate than bitter burnt dark roasted coffee as indicated by the aroma. This beer's flavor contains a creamy vanilla like secondary, and a sweet biscuity like note. This is an unbalanced flavor profile with no detectable hoppy flavors, and there are also no fruity tastes. The flavor is hampered by a strong and persistent alcohol flavor which comes with a harsh bite at the end of a dull, lingering malty aftertaste. This beer has a strong, bold, and robust dark coffee malt flavor overall.
Our Take
Any coffee lover may want to try this beer for novelty's sake. This high strength brew's immediate dark roast flavor comes across with nearly too much power. A malty experience overall, this is a robust, fully fledged beer that won't attract a large audience. There are some detrimental dullness in the finish, and this beer is rather unbalanced overall, but more importantly, there is nothing forgiving about this particular beer. Unfortunately, despite strong aromatic and flavor profiles, the 10.00% ABV, albeit high, remains one of the most distinguishable characteristics about this beer. Yet, this is all reason to give this a whirl, at least if you're looking for a bold flavor, a coffee character, and an overall malty sided beer. This beer's high alcohol strength and full body make it better for the cold winter months, and as a pairing, you better make sure it goes with food whose flavors are equally present in stature. Overall, this is actually a decent beer. The strong flavors and a high alcoholic strength make for a distinct drinking experience that is better savored rather than rushed. Dark malt beer fans would find this particular specimen invigorating. And if you happen to enjoy coffee, then perhaps this is the imperial beer you're looking for.