Passive, Massive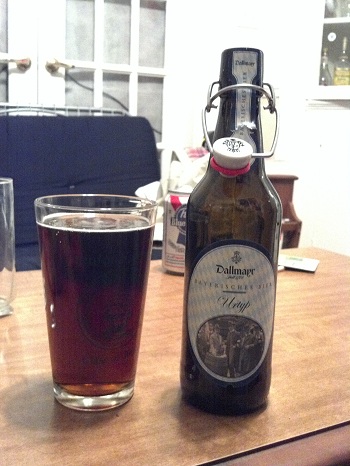 Brewery
and
Country
of Origin:
Brauerei Nemo Namenlos
of
Emdbrau, Germany
Date Reviewed: 4-30-12
Interestingly enough, very little is known about the people who make this beer. The brewery is called Nemo Namenlos means Name, Nameless, which makes finding information about this brewery rather difficult. But their beer, well, that's a different tale. Like Daniel waiting in the Lion's Den, the Dallmayr Urtyp from
Germany
leaves the partaker wondering what is so remarkable about this beer. A dull and hazy appearance shows nothing terribly special, and the aroma doesn't do this beer justice. A little bit of malt like aromas are present, but these are nothing overpowering. You begin to understand what this beer is all about when you experience its taste. Of course, the lion never comes which is fortunate for Daniel, but this story is different. Immediately apparent is this beer's creator's habit for using copious amounts of roasted malts in their dunkel. Defined by a "this is one of the most _____ beers we've ever had," moment, the proverbial lion arrives as soon as the beer hits your tastebuds... and man, does it roar.
Date Sampled: 4-27-12 At: 7 Prescott Place, Allston, MA, USA
Beer Style
:
Dunkel Lager
Alcohol by Volume: 5.20%
Serving Type: .5L Bottle, 20 oz Tumbler Glass
Rating: 4.16
Look
This beer is dark with a dull bronze color, and a somewhat cloudy and hazy appearance, alluding to an unfiltered state. It pours with a lower viscosity. The beer demonstrates moderate lacing and displays a thin foam head that disappites quickly.
Aroma
Rather understated, the aromas of this beer hint at the true maltiness of this beer. Caramel and toffee like aromas fill the nostrils, prepping the tastebuds for something absolutely unique.
Feel
This is a medium bodied beer with a low to moderate level of carbonation. The beer finishes somewhat dull, with a sublte lingering aftertaste.
Taste
The Urtyp is exploding with caramel, molasses, toffee, and sweet flavors, this beer contains loads of roasted, toasty malts which give this beer it's darker appearance and massively sweeter notes. The finish includes a somewhat malty and subtle bitter aftertaste with the latter being the only presence of hops.
Our Take
If you are a
Munich style Oktoberfest or Marzen
style fan, or if you like malty beers, this is definitely going to hit a sweet spot in your heart. Unfortunately, this is not a beer that will appeal to everyone.
IPA fans
are going to be turned away by this at the first sip, and
Wheat fans
aren't going to know what to make of this beer. Sweet, bold, smooth, and flavorful, this is definitely a unique beer experience which delivers extreme and relentless notes which won't be easily forgotten. A lack-luster presentation, anemic finish, and relatively weak aroma was what brought this goliath down, but only just so. We still believe this is a great tasting beer that most people will have a hard time refusing, and for that, its praise is well deserved.