"The Magic Is In The Hole!"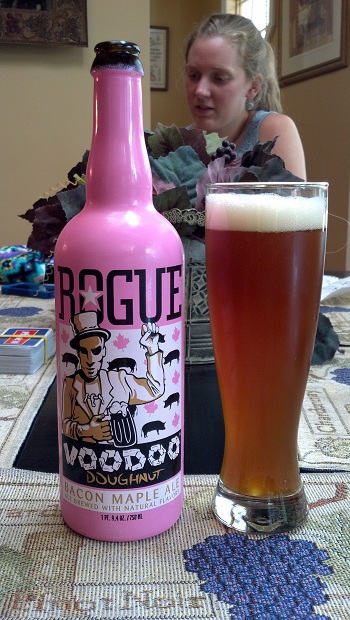 Brewery
and
Country
of Origin:
Rogue Ales
of
2320 Southeast Osu Drive, Newport, OR, 97365, USA
Date Reviewed: 8-14-12
The Doughnut as we know it today was invented by
American
Hanson Gregory in 1847 when he was only 16 years old. It was his idea to remove the doughy center from the
Dutch
inspired fried cake (in order to improve even cooking and texture). As time would show, his idea took off to the point where the modern doughnut eventually became as ubiquitous in American culture as the hot dog. And because the doughnut itself is a cake (a fun one at that), it wouldn't be American without all of the fixin's. Icing, nuts, candy, filling, and chocolate dough are just some of the things people have added to their own recipes in order to make their little ring shaped cakes unique and better looking (and tasting, of course). But these are boring. Beyond going over the top in everything we do, we are also extremely lazy and we love food. So instead of having to eat an entire breakfast which takes time to cook, eat, and clean up, why don't we just have a doughnut that makes the job marginally easier? Well, this exact concern has been addressed by a few doughnut shops across the country, and Rogue Ales has paid homage to a local solution maker known as Voodoo Doughnuts, a world famous doughnut shop known for their extremely sinful fried cakes. Voodoo is also one of the shops which has addressed the "Breakfast is too tiresome" pandemic with their Maple Bacon Doughnut. Yes, this is a cream filled masterpiece topped with real maple frosting and of course, strips of bacon. So rather than having to eat pancakes, bacon, and a doughnut, you can now enjoy all three at once. Time saver, gut filler. Rogue has paid their homage in the form of a
smoked ale
which has also been crafted with maple syrup and yes, real bacon. But does this transcription of ingredients work in the world of
The Reinheitsgebot
and mastering
traditional style
?
Date Sampled: 8-11-12 At: Amanda Lubin's House, Syosset, NY, USA
Beer Style
:
Smoked ale
Alcohol by Volume: 5.60%
Serving Type: 25.4 oz (750 mL) Bottle, 16 oz Weizen Glass
Rating: 2.84
Look
This unfiltered beer glows bright with a rich golden amber color and an overall hazy/cloudy appearance. A medium high level of carbonation action gives this beer a thick, dense, inch tall foam head with a medium amount of longevity. There is also an average level of lacing. This beer pours somewhat smoothly.
Aroma
Voodoo has an extremely potent, smoky aroma, clearly detectable from a considerable distance away. This is a smoked applewood aroma mixed in with a slight hint of bacon and a good amount of maple sugar/syrup. There is no hoppy aroma present. Very malty and smoky overall.
Feel
This is a medium bodied beer with a fair bit of weight despite an overall "fluffy" and lighter presence. There is a low amount of carbonation feel, leaving this beer a bit dull at the back of the mouth and on the tounge. This beer has a medium level of viscosity, and a subtle grainy texture.
Taste
A massive amount of flavor invades your perception of what reality is with this one. Obviously, the smoky aspect of this beer is perhaps most prominent here, with a fair bit of maple sweetness and a good amount of, you guessed it, bacon mixed in as well. An exciting combination of smoked malts are used to bring out a genuine smoky character in this brew, and real bacon as well as maple syrup also make the ingredients list. A lingering, malty finish and sweeter aftertaste are what close out the truly unique flavor experience with Voodoo.
Our Take
Wow. What to make of this one? Rather than saving time by combining three of America's favorite breakfast foods, Rogue has added to the mix by adding one of America's favorite all around things: Beer. Now, you can have a beer with breakfast! And it comes in a bright pink bottle, the same color used for Breast Cancer Awareness Month (And you know how much Americans love Boobs, too). But sometimes, too much of a good thing can actually happen. And rather disappointingly, this beer is the case in point. When you try to complicate things by putting everything you like into a pizza, that pie is going to taste revolting. And though you may love seafood and ice cream, sometimes you have to admit, not everything goes well together. And that is this brew's biggest fault. While the prospect of combining the flavors of four of your favorite things (maple syrup, doughnuts, beer, and bacon) may seem amazing in your mind, the physical result isn't so. Rather, this is more like an experimental novelty beer which can't be taken seriously. Rogue Ales is all about crafting seriously good beer, yet this seems to be none of that. Sure, there were many aspects of Voodoo which we liked. But unfortunately, what went wrong kept this beer out of the threes (or above), and out of our hearts.