Short Expectations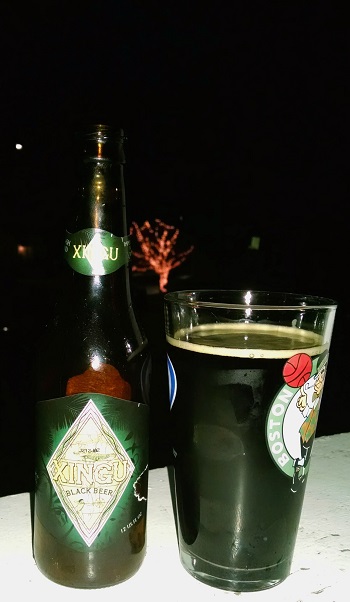 Brewery
and
Country
of Origin:
Cervejaria Kaiser
of
Av Prez. Humberto De Alencar C. Branco, 2911, Jacarei, Sao Paulo, 12321-150, Brazil
Date Reviewed: 3-20-15
Next summer,
Brazil
will host
the world
's athletes and the rest of us will look upon the fifth most populous country, as they compete and represent their respective nations at the 31st Olympiad, the 2016 Summer Games at Rio de Janeiro. It will be the first ever games to be held in South America, as well as the first hosted by a
Portuguese
speaking city. This particular beer also happens to be the first Brazilian beer, as well as the first beer from South America that we've ever rated. And perhaps that is a result of the steady rise in global importance that Brazil has been experiencing in recent decades. The brewery which produced this beer,
Cervejaria Kaiser
in Sao Paulo, was founded in 1982, and wasn't an internationally recognized brand in the US until
Molson
purchased the brand in 2002. In 2005, the brewery was Brazil's second largest, holding an 8.7% share of the Brazilian beer market with an annual production of 2.5 Billion liters.
Heineken International
purchased the brewery in 2010, and since then, the brewery has maintained its position as a top Brazilian brand. For much of the early part of the new millenium, Brazil's economy was booming, with immense foreign investment and acquisitions pouring in from all corners of
the globe
, and in 2010, Brazil had one of the fastest growing economies in the world. Today, the Brazilian economy is in a recession, and government as well as corporate corruption continues to impede progress, costing firms more than $40 billion a year in estimated losses. The hope is with the recent developments surrounding the 2014 World Cup, as well as the new injection of money from preparations and events related to hosting next year's Summer Games, Brazil's current economic downturn will become a thing of the past, but it's proving more difficult than anticipated. Security is a major concern in Brazil, with routine drug wars and civil unrest occuring within the city's favela areas already appearing at times to be too much for the city's police force to deal with. With the World Cup, as well as the
2014 Sochi Olympics
awash with preparation and infrastructure inadequacies, much of the IOC has expressed worry over the lack of proper meatures being taken by Brazil to get construction completed on time. The IOC's VP John Coates calling Brazil's preparations "The worst I've experienced" with the construction projects "severely behind schedule." There is, perhaps deservingly so then, a good amount of concern over Brazil hosting the games.
London
, which hosted the 2012 Summer Games, was apparently chosen as a "plan B" sort of emergency venue in case Rio's preparations fall short. Still, the world hopes the first ever South American Olympics will turn out with a much more glorious and successful result than the first rated South American beer we've had.
Date Sampled: 12-16-14 At: 7 Priscilla Road, Brighton, Boston, MA 02135, USA
Beer Style
:
Schwarzbier
Alcohol by Volume: 4.70%
Serving Type: 12 oz Bottle, 16 oz Tumbler Glass
Rating: 2.53
Look
Xingu Black pours smoothly with a medium low amount of carbonation action, producing a thin, eighth inch tall foam head with a high density, a creamy texture, a tan color, and a good retention. As expected, this beer has a dark, opaque black color with no shine and a very dull deep ruby red glow only in bright light. This beer has a mostly clear appearance with a very small amount of chunky sediment at the bottom, and it displays a moderate amount of effervescent effect. There is a medium low amount of lacing on the glass.
Aroma
This schwarzbier has a low strength aroma overall which doesn't help to enhance its flavor to a great extent. Immediately present is a good amount of dark roasted, grainy malt with a subtle espresso note. This beer's aroma is fairly dull in general and contains almost no distinct hops or any fruity notes. This beer has a somewhat earthy and sweet undertone and also includes a bit of a subtle espresso roast secondary. There are no alcohol or metallic tinges.
Feel
This is a medium light bodied brew with a fairly smooth feel overall. This beer has a medium low viscosity, a matching lower than average weight, and a smooth, velvety texture which contains only a small amount of carbonation. This beer offers very little in the way of refreshment or any crispness, and feels a bit dull overall. There is no added texture from the sediment, as long as it stays at or near the bottom of the glass, or kept in the bottle altogether. There is no alcohol bite and a slight cooling effect at a dull, yet somewhat dry and lingering finish.
Taste
In general, this beer has a restrained, almost underwhelming overall flavor, which starts off with an obvious malt heavy inflection which gives off a sweet toasted toffee and sugar cookie like flavor throughout the sweet profile. A bit of roasted coffee also adds to this beer's character. There is a grassy undertone which highlights this beer's grain. This beer is dull and unbalanced with no hop presence, no bitterness, and no fruity notes. This beer finishes with a somewhat dry close and a dull, lingering grainy light malty aftertaste which does not contain any alcohol or metallic tastes.
Our Take
On the face of it, this is not an appealing beer which you should go out of your way to seek on liquor store shelves. In fact, you probably won't have an easy time finding it. But for that very reason, perhaps you should. Yes, this is a dull beer with some pretty lethargic qualities not limited to a weak aroma, an unbalanced flavor, and a rather light presence, but it is a beer from a place that is known for coffee, with
Brazil
having been
the world
's largest producer and consumer of coffee. It has been the world's largest producer of coffee for more than 150 years. And while this beer does have a bit of roast coffee flavor, this should also take into consideration the fact that Brazil drinks far more coffee than it does beer, and one clearly takes precedence over the other in terms of both economic importance, and preferential taste. Still, this beer's rarity and exclusivity as not only a South American beer, but one that is also a darker
style
(98% of all beer consumed in Brazil is of the lighter
Pilsner
variety), should give it a big enough reason to be on the potential "maybe try" list for anyone either looking for a lighter, yet dark and malty beer, or anyone who is looking for quirky beer from around the world. This is definitely not the best schwarzbier we've had, but it's not the worst, and if you do find it, there's not much harm in at least trying it. Its contents may have traveled thousands of miles to get to your spot. This beer's sweet, yet grainy flavor, and coffee subtleties make it a decent pairing option for spicy foods, barbecue, sausage, blue cheeses, and Samoas Girl Scout Cookies.