Domestic Import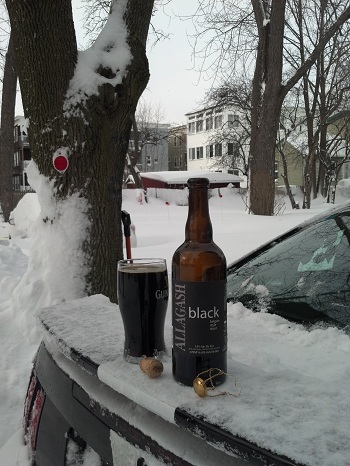 Brewery
and
Country
of Origin:
Allagash Brewing Company
of
50 Industrial Way, Portland, ME 04103, USA
Date Reviewed: 3-01-13
If you know the
Allagash Brewing Company
from Portland, Maine, then you're already aware that they specialize in
Belgian
style brews. Belgian beers have a certain characteristic that is uniform through the country's many different styles. And while the following traits or rules aren't concrete or hard and fast (and certainly not
dictated by law
), you would most certainly experience the results in any traditionally brewed Belgian style beer. First and foremost, the Belgians have their own styles which are native to their lands, and use ingredients produced within domestic borders. That helps bring out certain flavors and aromas that you normally wouldn't get anywhere else, unless a deliberate attempt at replicating these brews outside of Belgian borders was made.
Trappist and Abbey
beers certainly adhere to traditional brewing styles, so much in fact that they essentially define a lot of what Belgian brewing is all about. But those are for another place, at another time, during another review. This "lecture" is going to go into what makes any general beer, a
Belgian style
beer. Belgian beers are generally somewhat higher in alcohol content than other European beers of the same style. Their flavors are bold, complex, and full of a wide array of tastes. Belgian
wheat beers
can come filtered (though ususally, they're unfiltered) and in both dark and light colors. The shade is a result of the kinds of malt used in brewing. The malts used in these Belgian wheat beers can also give off fruity and banana flavors as well as some spicy notes. And these traits follow other Belgian style beers, including belgian stouts. Though technically classified as strong dark ales like
dubbels and tripels
, Belgian stouts are brewed in the similar top fermented fashion, and are sweeter than their
British
or
Irish
couterparts.
Date Sampled: 2-09-13 At: 7 Prescott Place, Allston, Boston, MA, 02134, USA
Beer Style
:
Belgian Strong Stout
Alcohol by Volume: 7.50%
Serving Type: 750 mL Bottle, 20 oz Pint Glass
Rating: 4.17
Look
As implied by the name and style of this beer, the appearance is nearly opaque with a blackish brown color, which only offers a small amount of glow when held up to even bright light. This beer pours smoothly with a small amount of carbonation action. This produces a thin foam head with a alow retention and a medium density. A moderate level of lacing occurs on the glass.
Aroma
The aroma is full of roasted coffee malt with some nuttiness and a nice sweet undertone which reminds the drinker that this is a Belgian style beer. There is some bitter and dark chocolate as well, but this only shows up as a secondary aroma. A small amount of alcohol is present as this beer does have a moderately high level at 7.50% ABV. There is a small earthy note as well. The aroma is of medium strength overall.
Feel
This is a full bodied beer with a good amount of weight, a very high viscosity, and a moderately low level of carbonation. All of this makes this a heavy sipping beer which is not easy to drink, but definitely smooth overall. A modest alcoholic warming does occur at the close, which is somewhat dry and lingering.
Taste
As is with the aroma, this beer is bursting with strong coffee and dark chocolate malty notes. These are accented with some sweet Belgian style malty notes which you'd expect in regional beers of traditional style. A small amount of fruity (banana) and clove like notes are detectable. There is a small presence of trailing hops toward the finish, which has a bitter malty aftertaste and an average amount of lingering.
Our Take
There is something special about this beer. You're looking at a excellent brew which more than satisfies each of the senses, and does its job as an ambassador of
Belgian
style beers in the
United States
. When
Allagash
opened its doors in the mid 1990s, its founder Rob Tod (who still owns the brewery) wanted to make sure that his enterprise gave beer drinkers in the US the opportunity to drink a beer which was not only of astronomical quality, but also of a genuine, traditional Belgian character and style. Belgian style American beers were a thing of novelty, hard to find, and only brewed by specialty, unknown brewers and sold/served in quirky beer snob pubs or craft beer stores. And it wasn't until companies like Allagash that you could get a Belgian style beer that wasn't imported from Belgium. This particular black stout is just a testament to their continued pursuit to bring American craft beer enthusiasts with that alternative choice. And we simply just have to thank them for it.