"Thou Shalt Love Thy Neighbor As Thyself"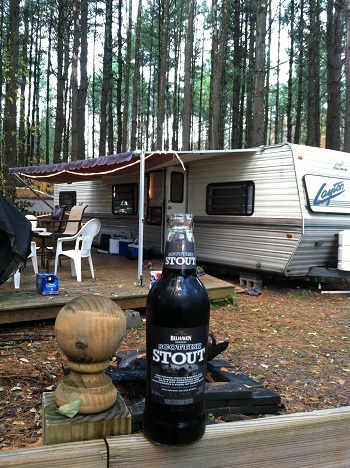 Brewery
and
Country
of Origin:
Belhaven Brewery
of
Spott Road Ind Est, Dunbar, East Lothian EH42 1RS, Scotland, United Kingdom
Date Reviewed: 11-08-12
Despite differences in their beliefs, the
Scots
are pretty similar to their
neighbors to the West
. They all enjoy beer, Rugby, cold and wet weather, and disliking the
British
. What's more, they have a mostly shared history going back to the era of
the late Roman Empire
. In fact, the latin word
Scoti
referred to the inhabitants of what is now both Scotland and
Ireland
. The word was used to describe the people who sailed from Ireland to what is now England to fight and carry out raids in order to help end Roman rule. Of course, Ireland decided to go its own way, but Scotland has retained its name in one form or another since the 11th century. Today, although Scotland is a part of the larger
United Kingdom
, feelings between Ireland and Scotland are better than they have been in recent history, especially during the height of
The Troubles
. Fortunately, that period is all but over, and the two countries in the North Atlantic are looking to move on. Though some political and religous differences sometimes separate the two, there is one thing certain. Beer can be a uniting elixir. Today,
Irish Reds, English Browns & Bitters, Scottish Ambers
,
London Porters, and Irish Dry Stouts
are all enjoyed across all of the UK and Ireland. In the grand scheme of things, good beer is all that matters, as long as it really is good. And as a testiment of improving relations between the countries of the British and Irish Isles, many breweries within each country is are making their own interpretations of traditional offerings from their neighbors.
Belhaven Brewery's
Scottish Stout is a perfect example of old time cultural fusion... if that actually is a thing nowadays.
Date Sampled: 10-20-12 At: Puffin's Haunted Wilderness Refuge, 348 Sunside Road, East Durham, NY, 12423, USA
Beer Style
:
Scottish Stout
Alcohol by Volume: 7.00%
Serving Type: 500 ml Bottle, 16 oz Plastic Tumbler Glass
Rating: 4.06
Look
This Scottish stout pours somewhat smoothly with only a moderate level of carbonation action. This beer has a medium density, half inch tall foam head with pretty good retention. The color is very dark brown with a filtered, but almost opaque appearance due to its use of very dark malt. A moderate amount of lacing is displayed on the glass.
Aroma
This brew features a potent aroma with some considerably sweet caramel and dark chocolate notes present. The strong aroma is accentuated by an almost out of balance proportion of malt. There is virtually no hoppy smell noticeable, as nearly burnt malt dominates the nostrils. No alcohol is detected in the aroma.
Feel
This is a medium full bodied beer with an average viscosity and a medium high level of carbonation. This increased bubbly activity gives this beer a somewhat unexpected crispness to it, but there is no hiding that this is a mostly solid beer. There is a short lived dry finish. Thanks to an elevated level of alcohol, there is a definitely detectable warming effect after the close.
Taste
As you would imagine, the flavor is dominated with coffee and full roasted malt character, which delivers a semi-bitter and sweet mixture of roasted coffee and chocolate notes. This profile dominates through the entirety of the beer's taste, including the finish, where no hops are present. There are no hops detectable at any point in this beer's taste, and with the warming effect, the 7.00% ABV gives off a little presence in the flavor.
Our Take
This is a great beer if you're into dark, malty, somewhat sweet beers with a full presence, and a good amount of alcohol. This is not a forgiving beer, and you'll find yourself deep in unchartered waters if you plan on drinking this hard. What matters though, is that this is a Scottish interpretation of a very traditional and very Irish beverage. And though this isn't as bitter or dry as the original, we can say that this is a great alternative to any old
Guinness
any time of year. Of course, this is a colder weather beer, and you'll be kicking yourself if you decide to bring a keg of this to your next Ft. Lauderdale Girls Gone Wild Spring Break beach party. Sweeter than most, this solid beer has high levels of chocolate and coffee flavors with some caramel detectable as well. This is where you start to realize that this is a Scottish take on an Irish tradition. Also included with this unique package is an elevated level of alcohol with the effects which can be detected in the aroma, taste, and feel. And that should tell you two things: one, its flavors aren't terribly overpowering, which in this case is a good thing (not too sweet); and two, this is especially good for those cold winter nights because of its deep warming effect at the close. Like setting a nice hearth fire within you, alcohol can help you survive those big Nor'easters which we seem to be getting more often lately.