It's Boss Time!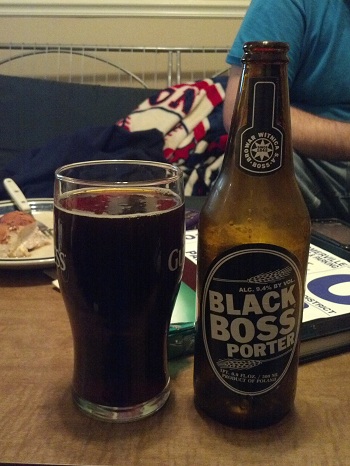 Brewery
and
Country
of Origin:
Browar Witnica S.A.
of
Marii Konopnickiej 1, 66-460 Gmina Witnica, Poland
Date Reviewed: 1-29-13
At this point, we've
lightly discussed
the origin of the
Baltic Porter
. We have also gone through a short,
horribly abridged
version of the
Polish beer history
. So at this point it is only prudent that we begin this review of another beer from Poland, talking about
American
rock legend, Bruce Springsteen. Now, you may be thinking, "once again, this has nothing to do with beer," and at first, you'd be right. But hopefully by the time you've read all of this, you'll see that even though
Browar Witnica
's chosen name for its flagship beer line has no connection to "The Boss," the two may have more similarities than you think. Well... not really. Actually, there's nothing similar about the two except for the name. That's it. Anyway, the beers. There are ten beers in the Boss line at Witnica, ranging from
black lagers
, to
strong ales
. And despite all of them being made by a brewery, which like its
home turf
, has had a mess of problems up until only very recently, they are all acclaimed, highly rated beers in the domestic market, and across Europe. Black Boss, for example, won first prize in the category of porters on Browar.biz in 2004, and is considered a very exclusive beer in
Sweden
. It, along with some of Witnica's other products, has also been received well in both
The US
, and
Germany
, two of the brewery's biggest export markets. Witnica's other beers sell well more regionally, but the Boss line has been touted as a more premium product line. And though much of Eastern Europe's brewing history is full of rich diversity and premium quality, state ownership during the era of the
Soviet Union
did a number on it as a whole. Fortunately, Witnica fared much better than most of the breweries in the region, and it's over 150 long legacy is still making impressive beer.
Date Sampled: 1-05-12 At: 7 Prescott Place, Allston, Boston, MA, 02134, USA
Beer Style
:
Baltic Porter
Alcohol by Volume: 9.40%
Serving Type: 500 ml Bottle, 20 oz Pint Glass
Rating: 3.05
Look
Black Boss pours very smoothly with almost no carbonation action. This gives off a short, quarter inch tall foam head with a weak density and a low amount of retention. There is no glow in this beer's dark appearance. This beer contains no sediment, and though it is clear, it's very dark rusty brownish red color gives off only a very slightly noticeable shine in bright light. There is some lacing on the glass.
Aroma
This brew's aroma is somewhat weak overall, with some roasted coffee and very subtle dark chocolate notes present. There are some nutty and earthy secondary notes as well. The aroma contains no hops, and despite a near ten percent alcoholic strength, there is no alcoholic tinge in the aroma.
Feel
This is a medium bodied beer with a medium high level of carbonation. An above average weight and a matching viscosity give this beer a somewhat heavy presence, yet when combined with an elevated amount of carbonation, this beer is somewhat easy to drink. There is a lingering, mostly dull (not dry) finish with a trailer of a small amount of warming from the higher alcohol content. The feel is smooth overall.
Taste
This beer has a fully developed roasted coffee and very dark chocolate malt flavor which makes this a mostly bitter beer. But this is not because of any hoppy character, as there are no hops detectable in this beer's profile. The flavor is well balanced with some slightly sweet lighter malt in secondary notes, delivering some nutty and biscuity notes. Some alcohol is present in the taste, but this is barely noticeable. The aftertaste is lingering somewhat with a mostly malty finish.
Our Take
This beer has been produced since 1994 as part of an initiative to legitimize the premium quality of Witnica's product line. Interestingly enough, this beer is no longer made with a 9.40% ABV, as it is currently sold and distributed in parts of
Germany
,
The United States
, and
Sweden
with an ABV of 8.50%. To be honest, we're not really sure how we got our hands on a 9.40% bottle, as we had purchased the bottle in early 2012. Either way, this was definitely a pleasant surprise to us as we had never heard of the brewery or the beer before. This beer's fully fledged dark malt flavor was quite robust and complex, while the aroma left a good deal to the imagination. This contrast, accompanied with a fairly heavy bodied, above average viscosity feel made the beer a substantial, unique, and definitely interesting experience overall. This is certainly a stronger beer (though apparently you'll only be able to find 8.50% bottles from now on), but that didn't take away from the flavor, which besides it's developed maltiness, showed some secondary notes of nuttiness and bread like tastes. Unfortunately, the finish was a bit too dull for our liking, and the weakness in the aroma was too little for what we'd hope for. Still, this is a good tasting beer which should help keep you warm during those long, and cold Baltic nights. Or if you're in New Jersey and it's dark out, maybe you should just start dancing. Because as we all know, "you can't start a fire without a spark."