"Munchen mag Dich"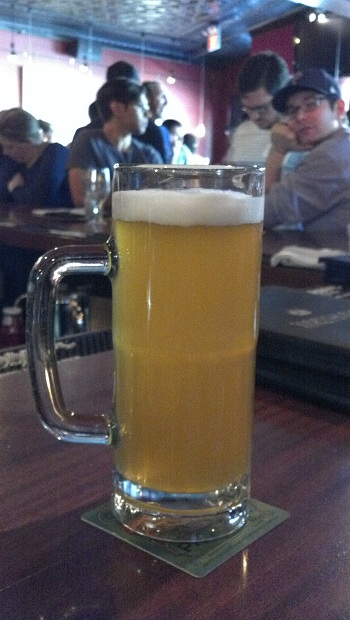 Brewery
and
Country
of Origin:
Brauerei Aying
of
Munchner StraBe 21, 85653 Aying, Germany
Date Reviewed: 10-19-12
This
top fermented
weissbier
comes from Aying, a small town next to the cosmopolitan city of
Munich
. Having been founded in 1158, Munich is commonly associated with the more traditional aspects of Bavaria. Oktoberfest takes place in the city at the beginning of Fall each year. In more modern history, BMW has operated in Munich since 1917. And the city has deep religious and historical roots as well. Today, however, the city of 1.38 million has been the urban crucible of moderization, economic progress, and technological innovation. The city has been consistently topping the list of the world's most livable cities, most innovative cities in the world, and is currently ranked as Germany's strongest economy. Munich also boasts the lowest unemployment rate of any large city in the country. Aside from BMW, many other large
international companies
have regional or global headquarters in Munich, including Microsoft, Siemens, Allianz, EADS, and McDonald's. And despite all of this change, the city is still proud of its history and tradition. One way in which this all continues is through the brewing of Bavarian beer. Yes, they still use
Purity laws
in germany albeit not nearly as restrictive as they were hundreds of years ago. And one lesser known example of tradition is the Ayinger Brewery, about 23 miles from Munich. Established in 1877, this independently owned regional brewery has won numerous international awards because they stick with traditional brewing practices. Despite all of the modern and sometimes scary change going on in nearby Munich and the rest of Europe, it's good to know that there are still ways one can enjoy a bit of old Deutschland. And this
Hefe
is a perfect example.
Date Sampled: 9-15-12 At: Lord Hobo, 92 Hampshire Street, Cambridge, MA, 02139, USA
Beer Style
:
German Hefeweizen
Alcohol by Volume: 5.10%
Serving Type: Keg, 500 ml Mug
Rating: 3.64
Look
The Brau Weisse pours choppy, creating a half inch tall, thick and creamy (dense) foam head with a good amount of retention. This beer has a cloudy appearance with a very pale golden/tanish color which glows bright in a light. Medium carbonation action gives this beer a moderate amount of lacing.
Aroma
This wheat based beer makes itself readily identifiable with a strong banana and fruity dominated aroma with clove and some coriander mixed in. There is a very small amount of hops detectable, and no roasted or darker malts at all. This beer's dense foam head is a leading contributor to a very strong, enhancing smelling foam head.
Feel
Overall, this is a great summer beer with very crisp and refreshing characteristics. This light bodied beer has a low viscosity, a medium high amount of carbonation, and despite its unfiltered appearance, there is no gritty or sandy texture to report. This is a light, simple beer, great for hot weather.
Taste
As the style suggests, this beer is full of wheat like flavors. Some fruity (mostly banana), clove, and grassy flavors are present as well. This beer starts off moderately sweet with more wheat and fruity notes, then turns bitter toward the finish. This beer has very bitter and dry, but also somewhat sweet slightly lingering aftertaste.
Our Take
Though summer is long gone and the weather is finally beginning to cool down, that does not mean you have to give up on the lighter, more crisp beers of the wheat family. This is an excellent example of what real German beer is all about, giving all beer drinkers an authentic experience of old Bavaria and what life was like before the EU ruined everything. Sweet, aromatic, fruity, and simple, this is a beer that is meant to satisfy each and every one of your senses. In some areas this beer is slightly lacking, including an almost too light feel, a somewhat overpowering clove character (nearly covering all of the hoppy aspects of this brew), and an almost undesireable grassy secondary taste. Of course, this might have gotten a better score if we were more into wheat beers (but we're working on acquiring that taste as well). Though in general, these are small issues that shouldn't take away from what is genuinely a great wheat beer. Sure, we'd always suggest that this and every other beer would taste better from the brewery (or in the same country at least), but we'd suggest that just finding this gem on tap should suffice. It just goes to show that despite the fact that many of the larger breweries within the city of Munich get all of the attention at Oktoberfest and abroad, something better can be brewing just 20 minutes away, and you won't have to fight any tourists to get it.