The Whites Of Their Eyes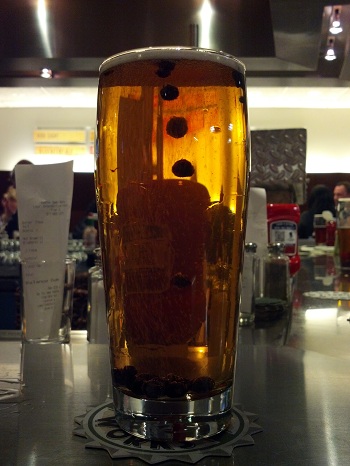 Brewery
and
Country
of Origin:
Boston Beer Works
of
Around Boston, Headquarters: 110 Canal Street, Boston, MA 02114, USA; Original Fenway Location: 61 Brookline Avenue, Boston, MA 02215, USA
Date Reviewed: 12-16-12
Before we get started, we'd just like to take a brief moment to send our thoughts and prayers to the victims and their families of last Friday's shooting. All of us at Unquestionable Taste and the rest of America will continue to pray for each and every one of you.


As we reviewed
Boston Beer Works'
tribute to Boston's historical and antiquated
love for baked beans
last week, you might have noticed that Beer Works, along with many other Boston based organizations tend to theme their brand on the city itself. Boston is a proud city, and its residents are usually more than happy to let you know about it. For this
Fruit ale
, the local brewpub chain decided to bring us back to a monumental battle which took place atop Breed's hill in Charleston, across the river. As your US History class would teach you, battle took place during the
American Revolution
with the Colonies fighting off the
British Red Coats
for independence. The battle, which took place on June 17th, 1775, was a momentous highlight of the war, lined with heavy losses for British forces, a successful retreat for the Colonies, and a marginal, but overwhelmingly negated victory for the Red Coats. There were over 5,400 soldiers fighting at Breed's Hill, with the battle ending with over 1,500 casualties, more than 1,050 of them on the British side. Because of the heavy toll this battle took on British forces, his victory is seen as a Pyrrhic Victory: one whose cost of winning results in the implication that more victory ultimately leads to defeat. This rang true when the American's finally won the war in September of 1783, along with the coming of the Treaty of
Paris
. Today, Breed's Hill, more famously, but incorrectly, known as Bunker Hill (the actual "Bunker Hill" was a semi-fortified hill slightly further away from Boston, while Breed's was chosen for its strategic location), is home to the Bunker Hill Monument, a 221 foot tall obelisk which visitors can climb to the top of, and view stunning panoramic views of Boston and the surrounding area. A nearby cable stayed suspension bridge, the Leonard P. Zakim Bunker Hill Memorial Bridge (mouthfull) commemorates the actual monument with its obelisk like towers. Built as part of "The Big Dig," the Bridge is the widest in the world of its type, carrying both I-93 and US 1. And despite having ten lanes across, a historically significant connection, and elegant, yet muscular architecture, it is perhaps most famous for its slow moving traffic during peak rush hour, usually unavoidable by the motorists of Boston.
Date Sampled: 12-07-12 (3-16-12 original) At: Boston Beer Works, Terminal C, Logan International Airport, Boston, MA, USA
Beer Style
:
Fruit Ale
Alcohol by Volume: 4.80%
Serving Type: Brewery Keg, 23 oz Stange Glass
Rating: 2.91
Look
Bunker Hill has a choppy pour with a large amount of carbonation action, producing a three quarter inch foam head with a thin density and lower retention. This beer is filtered and clear with a nice dark golden color which shines brightly in the light. There is a good deal of solid material and fresh blueberries dropped in at the taps. The high amount of carbonation formes on the blueberries, causing them to float up and down, creating a lava-like effect, which is pretty cool.
Aroma
This beer's strong aroma is dominated with sweet fruity notes, especially and obviously, blueberries. There is also a presence of lighter sweet malt, as well as a fair bit of hops, both of which adding to this beer's fairly balanced character. There is no alcohol detectable in the aroma.
Feel
This is a light bodied beer with a great level of carbonation, giving it a very crisp, airy, and refreshing feel. This brew has a lower than average viscosity and weight. The finish is somewhat dry with a fair amount of lingering, and a refreshing cooling effect toward the end. The beer is full of chunky solids as the blueberries and fruit bits add an interesting level of texture.
Taste
This fruit ale's flavor is of course, very fruity. This beer has a lot of sweetness to go around, with a big, bold blueberry taste which may be overpowering to some. This beer's dominating primary flavor is supplemented with some lighter sweet malt toward the beginning and middle of the profile, as well as a typically hoppy ending. This beer's bitter, yet fruity aftertaste lingers an average amount.
Our Take
This is a very flavorful beer which some may find a bit overpowering. While we would encourage any sweeter or fruity beer lover to grab a tall one of these, we know we're probably speaking to a fairly niche audience. Yes, this is a very unique beer, especially with the welcomed addition of fresh Maine blueberries in the mix, but truth be told, this is not a well balanced beer. Almost no other flavors can at least match the blueberry and sweet dominance, and there is almost no hoppy character to speak of until the very end of the profile. That said, this will definitely be a very great beer for those who do enjoy fruit ales, as well as generally sweeter tasting beer. Hops fans should probably avoid this one, as well as those looking for a heartier beer as the winter season is finally approaching. Some high points include this beer's obvious solid additives, a clean, and refreshing feel, as well as an aromatic experience. At the very least, if you're not a fan of this particular blueberry, we could either
recommend another one
, or make the suggestion of going for a lighter
amber ale
with a nice balance, and actually put real blueberries in yourself. We can't guarantee this would work since like we've said, we're not a huge fan of blueberries, but hey, if you do, why not?