A Monkey's Uncle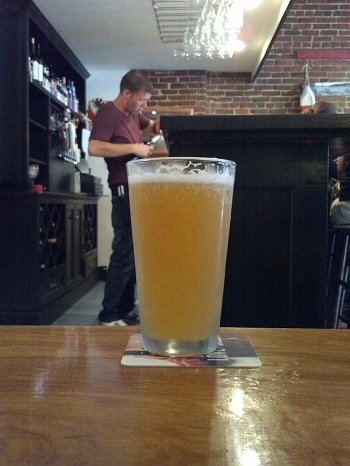 Brewery
and
Country
of Origin:
The Traveler Beer Company
of
209 Battery Street, Burlington, Vermont 05401-5261, USA
Date Reviewed: 9-12-13
Everyone has their favorite childhood book characters, and for many, the one they loved the most was Curious George, conceived by Margret and H.A. Rey. Brought to the "Big City" by a man who wears a trademark Large Yellow Hat, Curious George is a little monkey who is known for letting his own curiosity get him into trouble. It all starts in the jungle (somewhere in
the world
) where the Man in the Yellow Hat spots the monkey, and decides to take him home. While on the voyage back to
America
, George nearly drowns when he falls into the ocean after trying to imitate seagulls flying. When the get to the man's house, George partakes in smoking tobacco (a normal childhood activity, of course), and goes to bed. The next day, he makes an accidental phone call to the firestation. He ultimately gets arrested and thrown in jail for creating a false alarm. George then proceeds to escape from jail by injuring a guard, and then steals a group of balloons from a vendor. He is carried up into the sky with the balloons, where the wind blows him onto a traffic signal, presumably causing a big scene and screwing up the flow of the city. Then, after nearly destroying all of whatever city this is, George is taken back to his owner's immense platinum clad mansion within the Bronx Zoo... or where ever. From then on, George's other adventures have been immortalized in other children's books including the time when he got a job, rode a bike, flew a kite, and went to the hospital. Two animated TV series were created after him in the 1980s and again in 2006, and development for a live action/animated movie is underway. Curious George also has his own bookstore in Harvard Square, in Cambridge, MA, USA. His books have been translated into other languages and sold in countries from
Germany
and
South Korea
to
Norway
and
Italy
. It's just too bad the little monkey sets a bad example for kids worldwide.
Date Sampled: 8-03-13 At: Lobsterman's Restaurant, 421 Main Street, Rockland, ME 04841, USA
Beer Style
:
Fruit/Vegetable Beer
Alcohol by Volume: 4.40%
Serving Type: Keg, 16 oz Tumbler Glass
Rating: 3.82
Look
The Curious Traveler pours with a good amount of choppiness and a large amount of carbonation action, giving this brew a two thirds inch tall foam head with a low retention rate a mostly white color, and an average density. This beer has a very hazy appearance caused by the inclusion of a high amount of fine sediment. This causes the beer to glow bright golden in the light. This beer gives off no shine, and is completely opaque. This beer has a low amount of lacing.
Aroma
Very pale malt begins this beer's aroma with some faint, sweet notes and a good amount of fruity, lemon like notes. This beer has a strong citrus presence that is pretty similar to home made lemonade. This beer's aroma contains a very small, but detectable amount of light, though bitter, and somewhat fruity hops. There is no nuttiness or alcohol tinge in the aroma, which has a high strength overall.
Feel
This is a light bodied beer with a good amount of light crisp and refreshing qualities, making it a great summertime or general hot weather brew. The elevated level of carbonation gives this beer an airy or whispy effect, and overall, this is beer is very easy to drink. The finish is pretty dry with some light lingering, and the crispness gives off a sort of cooling effect.
Taste
Immediately present is this beer's lemon dominated profile, akin to fresh squeezed lemonade. This beer has a high amount of citrusy notes and a fair amount of light, somewhat sweet pale malt and a hint of grassy and clove notes. There is a small balancing amount of piney hops toward a bitter and dry finish which lingers for a short amount of time. This beer does not offer any roasted notes, nor does it give off any flavors of alcohol.
Our Take
Though summer is coming to a close on the calendar, the weather would suggest otherwise. Yesterday (at least in Boston), the temperature reached 97F in some neighborhoods, nearing record highs for the day. Today is supposed to hit 89F, which would make for great beach weather. And if you are lucky enough to be at the beach while the weather still merits it, you're going to want to bring along a six pack of Curious Traveler. This light bodied, fruity beer is a great year round offering which delivers a great amount of crispness, cooling, and refreshment, which will bring some ease to any hot summer day. Though we believe there is a bit too much of a lemonade like character, this is a very good beer which is easy to drink, light on the palate, and doesn't fill you up. And even after the weather turns to real fall temperatures, we'd give this a try because its rather strong notes make it a substantial beer without the substance.