Cheques and Burgers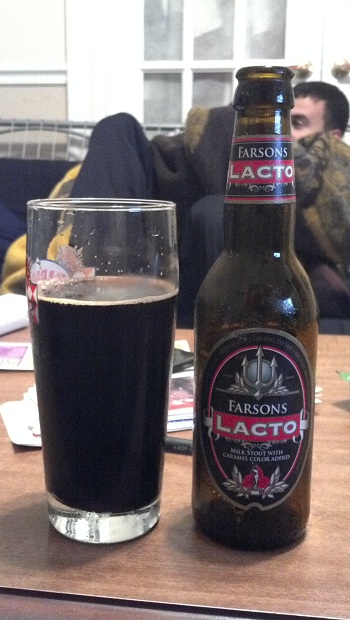 Brewery
and
Country
of Origin:
Simonds Farsons Cisk, PLC
of
The Brewery Notabile Road, Birkirkara BKR 3000, Malta
Date Reviewed: 10-30-12
Giuseppe Scicluna opened up the first privately owned bank on a two Island archipelago about 50 miles south of
Sicily
in 1840, a fairly modest operation considering the two island were only 121 square miles in total land area. In 1928, the bank took over one of their client's business and in turn, created the first brewery in the archipelago. Later that year, the brewery started producing actual beer for consumption after they gained a license to do so creating the first beer ever produced on the islands. A merger in between another local brewery called Simonds Farsons Limited (itself being a merger result of L. Farrugia & Sons (Farsons) and the local
British
Simond's branch) in 1948 created the preeminent leader in brewing in the area. All of this happened long before the islands nation gained its independence from
The United Kingdom
in 1964 and became
Malta
as we know it now. The name is officially Simonds (from the British brewery) Farsons (from the local brewery) Cisk (from the Maltese word for Cheque, a nickname for Scicluna who frequently used checks as a form of payment (despite it being hugely unpopular at the time). Today, the brewery makes six beers, two shandies, and manufactures Skol and
Carlsberg
under license. The brewery also makes soft drinks. One of the original beers is Lacto, a milk based
stout
which is much lighter than most of a similar style, and very low in alcoholic content. The result is a beer which is supposed to replicate the benefits of a full bodied cream stout without the effects of drinking a heavy beer. Interestingly, these beers aren't the only thing that Simonds Farsons Cisk specializes in. They are also a major franchisee of various
American
restaurant chains, including Burger King, KFC, TGI Fridays, and Pizza Hut, brining many of those restaurants to Malta for the first time. Many of these establishments are located in Malta as well as other European countries.
Date Sampled: 9-18-12 At: 7 Prescott Place, Allston, Boston, MA, 02134, USA
Beer Style
:
Milk/Sweet Stout
Alcohol by Volume: 3.80%
Serving Type: 330 ml Bottle, 16 oz Stange Glass
Rating: 1.93
Look
This stout is expectedly opaque with a blackish brown color and a clear, sediment free appearance. But because the color is so dark, it is difficult to notice unless you're outside on a sunny day. This beer pours mostly smooth with a lower level of carbonation action, giving it a dense, creamy, yet thin, quarter inch foam head, and some lacing.
Aroma
This beer has a strong, sweeter dark malt smell similar to candy corn. There is some metallic character noticeable as well, but this is mostly masked by a coffee mix. There are no hops detectable in the aroma.
Feel
Relatively light bodied, this beer has a very low amount of carbonation, giving it a very smooth feel overall. This brew features an average weight with a lower than normal viscosity, and only a small amount of lingering on a sweet rather than dry finish. This stout is among the lightest we've ever sampled before.
Taste
There is a modest coffee and dark roasted malt taste overall. Nothing very bold or strong as the flavors are mostly light. Sweetness overtakes any trace amount of hops or bitterness in this beer, and there is no real substance among the flavor. A subtle chocolatey aftertaste lingers for only a short period of time.
Our Take
Sadly, we can't recommend this beer to anyone. If you're a big
stout
fan (especially milk or cream stouts), you're going to be hugely disappointed. This beer's overall weak character, highlighted by an anemic flavor, barely noticeable weight, and overpowering, metallic aroma greatly reduce this beer's overall score. And if you're trying to seek refuge in beers lighter than most but with the dark and malty properties of a heavier brew, don't waste your time with this one. Unfortunately, you're not going to find anything very redeeming about this beer other than it's alcoholic, barely. At 3.80%, it is one of the weakest brews we've ever sampled, and although this is marketed as a fairly mainstream beer in local markets, you're going to pay a heavy import premium in the
United States
as this is a rare (probably a good thing) thing to find. Though this is a rather repulsive beer, perhaps it may be better on tap... at a bar... in Malta, but we're not about to pay the money to find out (unless
Simonds Farsons Cisk
was prepared to fly us out there, hint hint!). If you're in the market for a stout which is unique in that it offers full bodied flavors and character without the full body, we'd recommend lighter milk stouts like
Left Hand's
Nitro, or
Long Trail's
Double Bag. Yes, it's completely rare for us to actually recommend other specific beers on a particular beer's review page, but please understand: this is not a beer you want to waste your time or money on. At the very least, we learned a little about
The Republic of Malta
along the way.