Fisker, Tesla, Omission.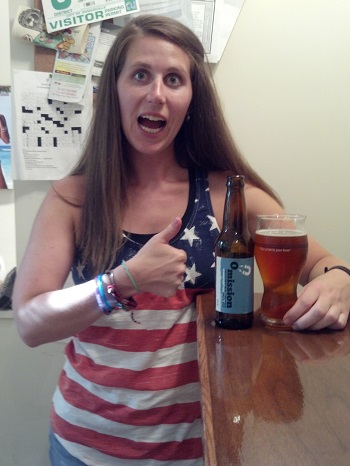 Brewery
and
Country
of Origin:
Omission (Widmer Brothers Brewing Company)
of
929 North Russell Street, Portland, Oregon 97227, USA
Date Reviewed: 7-01-13
If you're like us, you hate the fact that your brain typically loves things that are bad for you. Things like casinos, fries, BASE Jumping, cookies,
burritos
, one night stands, fireworks, Las Vegas... you get the idea. Well as it turns out,
Barack Obama
has put the elitist, capitalist, dolphin killing, anti social sports car in the same category. But what has the evil sporting auto done to make
this world
so angry? Well for one thing, because they typically cost a lot of money compared to your run of the mill Honda or Chevy, they're owned almost exclusively by a rich ass in a drop top Porsche, or a spoiled trust fund baby in a light blue BMW. And none of these drivers do themselves or anyone else any favors on the road, only hurting the sports car image even more. Not to mention, these cars are usually hopelessly impractical, catch the eyes of speed traps and cops, and are more coveted by those who steal cars, which raises insurance premiums. Your insurance rate is also heightened by the fact that faster cars are simply more likely to get involved in hugely expensive car accidents. Not a fender bender in front of a Wal-Mart. More like 5 people in the hospital, and $2,000,000 of medical expenses. Sports cars are also owned by many celebrities who, for some reason, choose to destroy them in some way or another. Eddie Griffin famously slammed his Ferrari Enzo into a wall. Lindsay Lohan appears to either have a clinical addition to Porsches, or hates them with a passion considering her relationship with them. While Justin Bieber hasn't actually plunged his Audi R8 into the nearest lake, he did give it a leopard skin, rendering the entire country of
Germany
utterly useless. And let's not forget James Dean, Steve Prefontaine, Dany Heatley...
And sure, all of these are pretty bad, but by far and away, the sports car is a menace to the world because it uses just as much gas as the also much hated entity known as the SUV. For example, the new 2013 Audi RS5 burns excess fuel just to make noise when changing gears. And when you put your foot down, your ostentatious midlife crisis becomes more of an incinerator than a pin up. And sports cars are only getting more and more powerful, with performance in the driver's seat (pun intended). So while Al Gore and Greenpeace are going on about the fate of baby owls, it seems almost every sports car maker is more concentrated on burning up the oily remnants of decayed dinosaur parts. Almost. As we all know, California is home to what we call, conspicuous progression. Some Californians adopt babies from
Africa
, while others choose to drive a Toyota Prius, and eat nothing produced in civilization. And as of a few days ago, gay people can once again get married there. All well and good. But until somewhat recently, there wasn't a sports car that people could drive that broadcasted both "I'm successful," and "I'm kind to polar bears" at the same time. Then came along a little company called Tesla Motors, who borrowed a
British
sports car (a Lotus Elise) and turned it into a battery powered electric sports car. The Tesla Roadster, otherwise known as the expensive plug in car you actually wanted to drive. It was far from perfect, and even after rave reviews which established Tesla as a legitimate car company to contend with other sports car makers, the Tesla Roadster was discontinued last year. Financial troubles hindered Tesla Motors' performance, but recently, the company has finally begun to post profits after a full decade of operation, thanks to their newest model, the Model S: the only car ever to get a 99/100 rating on
Consumer Reports
. California is home to another electric car manufacturer called Fisker Automotive. Founded by the same man who designed the Aston Martin V8 Vantage, the BMW Z8, and the Artega GT among others, Fisker's only current production model is the appropriately named Karma, which essentially sources all of its materials in responsible and environmentally sound ways... or so we're told to believe. The Karma hasn't been as successful in warming the hearts of investors, car critics, or prospective buyers, being plagued with battery problems, recalls, lawsuits, fires, and the notorious deal Fisker made with the Federal Government. The company recently laid off 75% of their workforce without notice. Still, the Karma is quite interesting, and we'd like to see Fisker succeed.
So now we can finally introduce
Omission
, a brand of
Widmer Brothers
which specializes in gluten free beer. Like the Tesla Roadster, Omission takes normal beer ingredients, including malt barley, and processes them into a brew which people who require
gluten free diets
can enjoy, so you won't get sick if you're sensitive to it... or so they say. This has not yet been confirmed or disproven by anyone we know with a gluten intolerance, but hopefully Omission is right in their assumption. They are changing the way people think about gluten free beer and how brewing without gluten doesn't have to kill the beer experience. The Roadster and the Karma were the same way. Electric cars were originally made out of a necessity to help the environment and reduce our usage of oil. They were a sad excuse for motor powered anything. But now, we don't have to think of them as just hippie approved ways to get from the anti corporation protest to the Phish concert. And thanks to Omission, gluten free beers can be enjoyed by everyone, not just by those forced to deal with it.
Date Sampled: 6-21-13 At: 7 Prescott Place, Allston, Boston, MA 02134, USA
Beer Style
:
Gluten Free Pale Ale
Alcohol by Volume: 5.80%
Serving Type: 12 oz Bottle, 14 oz Sam Adams Glass
Rating: 3.01
Look
This electric powered super beer pours fairly choppy with a good amount of carbonation action, producing a half inch tall, medium density foam head with an average retention rate. This beer has an amber golden color with a clear appearance, a medium bright shine, and a good amount of chunky sediment which slowly settles at the bottom of the glass. This beer shows a moderate level of lacing.
Aroma
This beer has a medium high strength aroma full of grassy and slightly nutty notes created by some slightly sweet and very pale malts. There is a moderate of dull somewhat balancing hops and a slightly fruity secondary undertone. This gives Omission's Pale Ale a bit of noticeable trailing hops. This beer's aroma is not tinged with any alcohol or metal.
Feel
This is a medium light bodied brew with a lower than average viscosity, a fairly high level of carbonation, and a low weight. This beer is crisp and refreshing, especially after a fairly dry, but dull finish. There is no added texture from even the largest bits of unfiltered floating sediment. Overall, this is a pretty light beer good for the summertime.
Taste
This Pale Ale is pretty sweet with a grainy and slightly biscuity malt character mixed in with a fair amount of balancing near end bitterness at a somewhat hops dominated closing. This beer also has a slightly mixed sweet and citrusy fruity aftertaste which takes over following a moderate dryness along with a noticeable amount of grassy notes. This beer's flavor does not have any alcohol tinge.
Our Take
Because Omission beer is modeled after real beer, it tastes like real beer. In fact, of all of the
reviews we've done
on gluten free beers, this
pale ale
is by far the best one we've had to date. Again, like the Roadster, this beer is by no means perfect. The finish was a bit too dull, and there was too much of a contradicting sweetness in the flavor. But overall, this is a respectable casual drinking beer that goes well on a sunny day. And as more people either choose or are forced to live with gluten free diets, this beer will hopefully bring the brewing world to a new era in gluten free beer. An era with more, better beer for those who wouldn't otherwises be able to drink it. When the world's oil supply eventually gets so low that it's economically unfeasible to turn it into fuel, it's good to know that thanks to Tesla and Fisker, there will still be fun cars to drive. And though hopefully it'll never happen, it's at least comforting to know that if one of us became sensitive to gluten, there's still good beer to enjoy.