Take Me Out To The Beer Game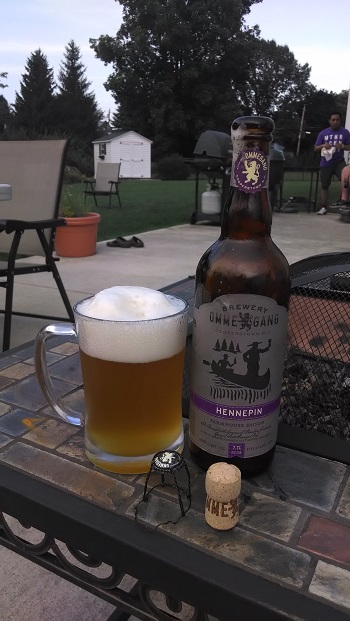 Brewery
and
Country
of Origin:
Brewery Ommegang
of
656 County Highway 33, Cooperstown, New York 13326, USA
Date Reviewed: 10-30-13
Tonight is game six of the World Series and being in the City of Boston, there is a lot of hype going on around the Red Sox's 3-2 lead against the Cardinals. And perhaps no name has been thrown out more than David Ortiz, otherwise known as "Big Papi", who has been playing this post season like a man possessed. Entering game six at Fenway Park tonight, Ortiz has been hitting a
Green Monster-like
.733 average and getting on base exactly three out of every four at bats. These two stats, along with his 1.267 slugging percentage as well as his 2.017 OPS, all rank within the top six World Series performances of all time. His recognition as the now best clutch and post season hitter in Red Sox history, as well as possibly the best
designated hitter
of all time, has recently earned him the new nickname "Cooperstown". This is a small Upstate, New York town known for exactly three things. First, it's in the middle of nowhere. The only real way in and out of the town is along I-90, the longest interstate in the
US
. Second, it's home to the Baseball Hall of Fame, where Ortiz will most likely gain a well deserved induction into. The Hall of Fame was founded in 1939 by a hotel owner in an effort to bring much needed tourism to a part of the state badly hurt by the recent Great Depression. Tourism was way down and the recent enactment of
prohibition
crushed the local
hops industry
. Early marketing for the Hall of Fame was based on a myth that baseball was invented in Cooperstown by a Civil War hero called Abner Doubleday. Since then, 297 players, coaches, umpiers, mangers, and other individuals have been inducted into the famous hall, which attracts a third of a million visitors every year. The arduous selection process, which is mostly an election of sorts has come under some scrutiny in the past, and at times, players have been banned from being selected for a variety of reasons, including gambling and using performance enhancing drugs. For a player to be eligible, they must have at least 10 years of experience in the MLB, and can only be considered after 5 years of retirement. Overall, the Hall's structure is like most museums and consists of galleries, theaters, displays, various exhibits, a library & database, as well as a collection of artifacts. The Hall is open year round. And third (if you've forgotten that this is actually a list), it's the site of
Brewery Ommegang
, which has called Cooperstown home since 1997.
Date Sampled: 9-01-13 At: 146 Fiddlers Hollow, Penfield, NY 14526, USA
Beer Style
:
Double Farmhouse Ale
Alcohol by Volume: 7.70%
Serving Type: 22 oz Bottle, 16 oz Mug Glass
Rating: 3.43
Look
Ommegang's Hennepin pours very choppy like with a large amount of carbonation action, giving this beer a tall, inch and a half thick foam head with a moderately good level of retention, a medium high density, an off white color, and a creamy texture. This beer has some haziness with the inclusion of fine sediment and a fairly bright associated glow in the light. This beer has a golden glowing color with no shine and exhibits a good amount of lacing.
Aroma
This beer's aroma is full of fairly citrusy and aromatic floral hoppy notes, which are balanced with some pale malt like grassy notes. There are also some sweeter fruity and yeast like clove and coriander derived banana aromas, all included in a high strength package which does not contain any alcoholic tinge, considering the beer's relatively high ABV.
Feel
This is a medium light bodied brew with a fair amount of dryness at a short lingering finish. This beer has a low weight, a matching viscosity, and an average amount of carbonation. This is a smooth and crisp beer which is fairly easy to drink, and delivers a noticeable amount of refreshment on a hot summer day. This beer has no added texture from the inclusion of its sediment.
Taste
The Hennepin is a hoppy beer characterized with fairly strong hoppy flavor, which is somewhat balanced with a good amount of pale malt like grainy notes typically found in lagers. This beer has a good deal of Belgian influence, containing a good amount of yeast derived fruity sweet banana and some clove flavor. This beer's flavor profile starts off sweet and immediately changes gears to reflect a more bitter style, then finishes with a clove character and a pretty dry finish. A trace amount of alcohol is detectible in the flavor.
Our Take
Even if you aren't a huge baseball fan, there are still many many reasons to visit the beautiful "Gems Along the Mohawk" including Cooperstown, home of Brewery Ommegang. That is of course, if you're into
Belgian style ales
more than designated hitters. Belgian ales, like Ortiz, deserve a spot on a shelf somewhere, and finally, it looks like they're gaining some of the positive attention they deserve with the help of another brewery,
Allagash
, who also produces high quality strong ales. And if you're thinking that these strong ales are always inherently heavy and filling, try Ommegang's Hennepin. Brewed as a
farmhouse ale
, this lighter, fruity beer is easy to drink and goes well with a variety of lighter meals. If you're looking for a bit of refreshment, even though it's late October, you're not going to be disappointed here. This beer has a good amount of traditional yeast derived clove and fruity notes typical of a Belgian style brew, and a strong, robust hoppy profile that will satisfy the needs of bitter brew fans. Overall, a good showing from a brewery located in a town with less than 2,000 residents. And with a respectable ABV of 7.70%, this 22 oz bottled brew is sure going to pair well with yet another long, late night World Series game at Fenway.