Euro Trip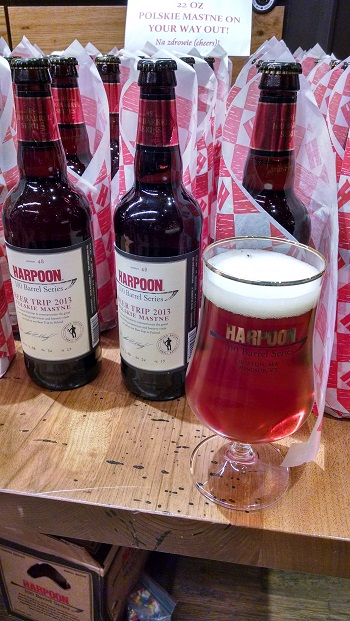 Brewery
and
Country
of Origin:
Harpoon Brewery
of
306 Northern Avenue, Seaport District, Boston, MA 02210, USA
Date Reviewed: 3-10-14
People often dream of working at places that make the things they love. The Ferrari factory in
Modena
comes to mind. But for many, especially those who visit this site, the dream is to work at/own a brewery. Aside from a steady paycheck, benefits, and knowing that you're helping to deliver to the world, in your opinion, truly great beer, working at a brewery has a culture found in no other industry.
Sierra Nevada
, for example, gives their employees free beer with every paycheck, as well as the chance to attend employee only beer camps. Then there's
Harpoon
, which not only has a canned beer vending machine in the employee lounge, but they also allow staff to submit their own beer recipes for production. Some are crafted into special limited run Beer Hall brews you can only get at their Boston brewery, while others turn into a session of their
100 Barrel Series
beers. If you couldn't tell already, we are huge fans of this limited run series of specialty beers. To this day, we've had nearly every 100 Barrel Series session since 2011 and we've never been disappointed. Each one comes with its own story and unique set of inspiration. And the Polskie Mastne is no different. Born out of a love of the
Polish brewing heritage
, this
amber ale
incorporates a balanced array of Polish ingredients with an
American
twist on continental ales. This beer celebrates the 1200th anniversary of the city where one of Harpoon's favorite Polish breweries was founded, Cieszyn. The brewery, Bracki Castle Brewery, is a property of
Heineken International
, while the brand is a subsidiary of Polish based Zywiec Group. Founded in 1846, the Bracki Castle Brewery produces roughly 160,000 hectoliters of beer each year and though it is currently owned by one of the largest macrobrewers in
the world
, its ability to retain conventional brewing methods, such as decoction brewing, open fermenting lager tanks, and other traditional regional practices makes it pretty special. The brewery has four main perennials including a stout, hefe, amber, and traditional Polish lager. The brewery produces a range of specialty beers as well, of which many have won awards. And if you're reading this from your business park office computer thinking, "this all sounds pretty glamorous," rather than quitting your job and trying to open up a brewery or get a job at one yourself, keep writing to your manager and HR department to add monthly two week long company employee appreciation trips to breweries around the world to routine benefits.
Date Sampled: 12-25-14 (11-14-13 original) At: Polskie Mastne Release Party, Harpoon Beer Hall, Harpoon Brewery, 306 Northern Avenue, Seaport District, Boston, MA 02210, USA
Beer Style
:
Polish Amber Ale
Alcohol by Volume: 5.80%
Serving Type: Brewery Keg, 16 oz Tulip Glass
Rating: 3.61
Look
Session 48 pours moderately choppy like with an above average level of carbonation action, giving this beer a two thirds inch tall foam head with a medium full density, a good retention, and a nearly white color. This beer exhibits a highly visible effervescent effect and shows off a good amount of lacing. This beer has a rich copper amber colored shine with no visible sediment and a pretty bright glow in average light.
Aroma
Immediately noticeable is a good amount of lightly roasted/medium caramel malt with some sweetness. This is a lower to medium strength aroma which does little to enhance the flavor overall. This beer's malt is almost lager like in that it's fairly weak and crisp. This and a slightly grassy undertone are balanced by partially hoppy and bitter floral and fruity hops which make the aroma clean smelling absent of any alcohol tinge.
Feel
This is a medium bodied brew with a crisp overall feel and a good amount of dryness at the lingering finish. This beer has an average amount of carbonation with only a moderate amount of weight and a below average viscosity, making this beer fairly easy to drink overall. This is a smooth and refreshing beer which cools and contains no alcohol warming.
Taste
A good amount of lightly roasted malt derived bold sweetness is immediately present followed by a strong presence of soapy hops. Throughout is a slightly grainy or grassy undertone reminiscent of Eastern European lagers using pale and crystal malts. The sweet beginning is smoothly balanced with a somewhat citrusy ending accompanied by a fairly dry and bitter somewhat lingering aftertaste. Strong, yet balanced flavors throughout.
Our Take
Another 100 Barrel Series brew, another success. This new take on the traditional
Polish
lagers, this
Amber Ale
, employs a pale euro lager set of malt, as well as a delicate bitter balance. This being an ale, the hops are much more noticeable than the usual Euro Pale, but not too overpowering for this lighter style. This is a flavorful beer delivering a fairly wide array of malt derived flavors from immediate sweetness to lager like grainy notes, and a trailing bitter dryness, all of which make this a particularly versatile beer when it comes to food pairings, and an IBU of 32.
Harpoon's
spent grain pretzels seem to go well enough, though they'd probably pair with
any kind of beer
well. Despite the overall presentation, this is a fairly easy going beer which can make for a great casual sipper that offers a good amount of crispness as well as refreshment among heavier winter beers. We think of this as an ale gone lager sort of hybrid brew inspired by a part of the world which is dominated by pale lagers. This beer should cater to the likings of most people who are looking for a beer with a lot of great flavor, but not too much substance.