"Time Of The Season"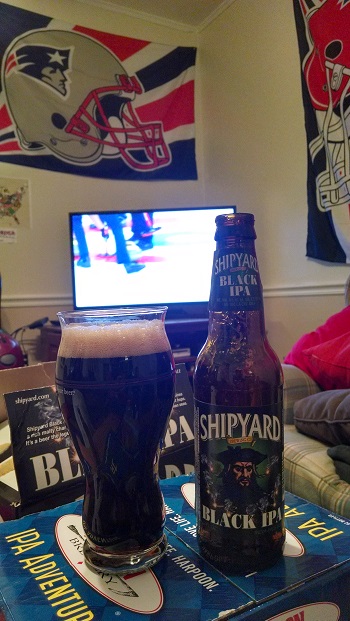 Brewery
and
Country
of Origin:
Shipyard Brewing Company
of
86 Newbury Street, Portland, ME 04101, USA
Date Reviewed: 4-17-14
For those of you living in the northern part of
America
, you know full well that winter is still very much refusing to leave. Of course, this winter has been particularly bad, with, as the media commonly loved to describe it, the
Polar Vortex
, but the lingering effects of a multi-record setting cold streak have managed to bring out the most ire of us northerners. Even yesterday, the people of Boston, Chicago, and Denver were forced to scrape ice and snow off their car windshields, and we're already more than halfway through April. Still, this is nothing too extreme, and we're not too worried about it (maybe if we're still talking about freezing rain in June, then we'll be concerned). But for now, and more importantly, it's that time of the season: The NHL Playoffs are finally here. Yesterday was the first night of first round games, and all three of them were hard playing, nail biting close matches which all ended in a one goal difference. As far as any predictions are concerned, we'd like to take this time to remove any bias toward any one team or market (not Boston), so we maintain a fair, objective overview (besides, everyone knows that the Flyers are better than the Rangers, obviously). And because of the unique way that the NHL playoff format works (even the stupid new one that the league implemented this year), the finals will most likely be happening in late May. And let's face it, May is almost a summer month. Yes, it's obviously in the Spring season, but the aura of late May is more beaches, BBQs, flowers, sports, and simply getting ready for the five month (or so, depending on where you live) period where you spend more time outside than bundled in a blanket cocoon catching up on
Game Of Thrones
. Funny enough, this never seems to bother anyone, even though ice hockey is played... well, on ice. So in a way, the NHL playoffs make a nice transition for hockey fans between the glorious months of the regular season (during the winter time festooned with
dark, high strength, heavy beers
), and the spring/summer months (which are characterized by
lighter, more crisp, wheat and blonde ales
). And that brings us to this beer. We've done
a few reviews
of
black IPA
's before, but we never really went into a particular aspect of them that we like about them so much. Like the transition of cold and hot weather, this
style
of beer is particularly noted among us for being a nice hybrid of sorts between winter stouts and porters, and spring/summer ales. The
IPA
specifically, is a beer we consider to be generally versatile in terms of seasonal enjoyment, though we'd still prefer it during warmer weather. And by throwing in a bit of darker, roasted malt,
Harpoon's Black IPA
,
Rogue's Dad's Little Helper
,
Clown Shoes' Lubrication
,
Stone's Sublimely Self-Righteous
,
Sam Adam's rendition
, and
Three Head's Skunk Black IPA
. So yes, we kind of like the style.
Date Sampled: 2-16-14 At: 7 Prescott Place, Allston, Boston, MA 02134, USA
Beer Style
:
American Black IPA
Alcohol by Volume: 6.20%
Serving Type: 12 oz Bottle, 14 oz Glass
Rating: 3.45
Look
As this is a black IPA, this beer is expectedly very dark in appearance. This beer has a smooth pour with a low amount of carbonation action, producing a creamy, dense tan colored foam head about two thirds inch tall with a good amount of retention. This is a clear beer with no visible sediment and little effervescent effect. As stated, this is a dark beer with an almost black opaque appearance except when held against light, in which this gives off a dark brownish red glow. Full lacing shows up on the glass.
Aroma
Immediately present is a great deal of clean citrusy and soapy hops throughout this beer's aroma. This is nicely accompanied by a deep smoky undertone which brings a hint of earthyness and a fair amount of burnt hardwood like aroma. This beer's aroma is slightly nutty with a very subtle biscuity note. Despite a fairly dark roasted malty presence, this beer contains no real sweet aroma. Overall, this is a bitter aroma with a high strength overall, which helps enhance this beer's hoppy flavor. There are no alcohol or metallic notes.
Feel
This is a medium full bodied brew with a with an average viscosity and a medium high weight. This beer also has an average amount of carbonation, as well as a fairly dry finish which offers a bit of crispness and light refreshment, despite an above average presence overall. This is a smooth beer with no texture from any included sediment, and the finish is slightly cooling with a lack of alcohol warming or bite. This is a fairly easy casual beer, but it is better in colder weather.
Taste
Indicative of the aroma, this is a very hoppy beer all around, but much like other black IPAs, this beer is well balanced with an array of rich, deep, dark roasted/slightly burnt malt. It is the smoky aspect of this beer that helps make it fairly unique. This is a nice undertone which helps prop up a somewhat citrusy hoppy experience which finishes with a somewhat lingering bitter aftertaste. There are some subtle coffee espresso like notes as well, and no alcohol tinge, and no real sweetness in this beer's flavor profile.
Our Take
Though we'll start out right in saying that this particular beer's only major unique characteristic is the smoky aroma and flavor undertones that it offers, this is an all aroung great Black IPA which will satisfy anyone looking for that mix of winter and summer beer styles. This is a hoppy beer overall which, like most of the beers of the style, delivers on the promise of a robust malty secondary which is full of semi sweet flavors similar to the heartier beers of fall and winter. This is also a fairly heavy beer with a somewhat large presence, making it a sipping beer more than a casual drinking beer. And though a bit of beach weather like character is included in this beer's design, we wouldn't recommend it as a way to beat the summer heat. Still, because this beer incorporates a large array of flavors and aromas from both ends of the scale, it is fairly easily paired with a good deal of many foods. All things considered, if you still somehow haven't tried a beer of this style, we would suggest you start with something like this. This is a well rounded beer with no particularly weak or strong aspects, and because this doesn't deviate too greatly from the norm of the style, that makes this a great way to introduce you to a style we believe, is simply great.