Drink In A Box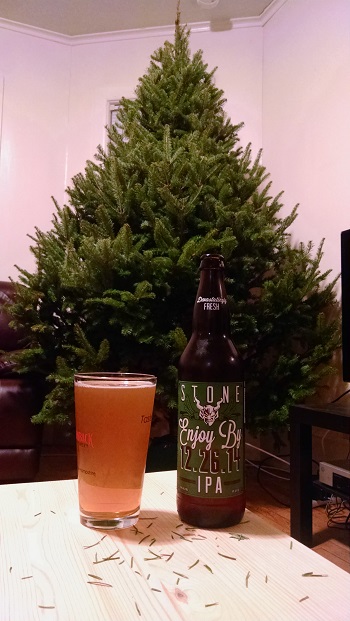 Brewery
and
Country
of Origin:
Stone Brewing Company
of
1999 Citracado Pkwy, Escondido, San Diego, California 92029, USA
Date Reviewed: 2-27-15
In the
World
of Christianity, it is the holiday of
Christmas
that dominates the festivities. And for many, December 26th is known as "the most depressing day of the year," which simply isn't true. The day after Christmas is Boxing Day, a secular holiday which, in the modern sense, celebrates the hard work of tradespeople and servants. Traditionally, these employees who had put in a year's worth of hard work were rewarded with a so called "Christmas Box" by their employers or paymasters the day after Christmas. These boxes were usually filled with money (bonuses/gratuities) and/or other gifts/donations, and were delivered the first weekday after Christmas, as these people would usually have to work on Christmas. The holiday is celebrated by
Commonwealth
countries (mostly former British colonies and dependencies such as
Canada
,
Australia
), and is a recognized bank holiday. Though it is usually celebrated on December 26th, Boxing Day can actually vary depending on what day of the week Christmas falls on. In many countries, the holiday is marked with a spike in shopping, much like
Black Friday
is in
America
. And much like Black Friday, stores and malls have expanded sales periods to incite more shoppers. Online deals have also begun to spring up for Boxing Day shopping much like Cyber Monday sales. Many sporting events also take place on Boxing Day, including the IIHF World U20 Ice Hockey Championships, the King George VI Chase (Britain's second most prestigious horse race), the Sydney to Hobart Yacht Race, and many other events. It's also tradition for Premier League and Rugby leagues to have full schedules on Boxing Day. Prior to 2013, the NHL would usually have a full array of games (about 10 or so) on the 26th, but the most recent Collective Bargaining Agreement (following the half year lockout that season) extended Christmas breaks to include Boxing Day unless it falls on a Saturday, in which December 23 becomes a league wide off day. Boxing Day then, is actually a pretty big celebration in some parts of the globe. But for the rest of us, the day remains a bit of a downer. Or, at least it did until
Stone
made it one of their new Enjoy By IPAs. This is a series of ultra fresh
imperial IPA
s that offer an "off the branch" type of farm fresh herbal hoppy flavor that is hard to get if you're not close to a brewery with its own hop supply. And though Stone recommended that you consumed this beverage as soon as you got it, perhaps you were lucky enough to grab one of the last remaining ones before they moved onto the next batch (which ends in March), and make the most depressing day of the year, a bit more special.
Date Sampled: 12-06-14 At: 7 Priscilla Road, Brighton, Boston, MA 02135, USA
Beer Style
:
American Double/Imperial IPA
Alcohol by Volume: 9.40%
Serving Type: 22 oz Bottle, 16 oz Tumbler Glass
Rating: 4.07
Look
This fresh IPA pours pretty choppy with a moderately high amount of carbonation action, generating a thin, quarter inch tall foam head with a white color, a medium high density, and a low retention rate. This beer has a clear and filtered appearance with a very bright golden glow in light and a nice shine in light. Displayed is a low amount of effervescent effect with no settling and no visible sediment. There is a moderate amount of white lacing on the glass.
Aroma
This beer's aroma includes an immediately present piney and clean northwestern style hoppy presence with a strong bitterness. This comes with a hint of citrus fruit and some spicy herbal and floral notes. Slightly buttery and soapy as well. This is contrasting to a faint, but detectable inclusion of slightly toasted sweet malt. There is no alcohol tinge, despite an above average alcohol content, and this beer's fresh and crisp hop bitterness throughout the aroma helps to enhance this beer's flavor.
Feel
This is a medium bodied brew with an average amount of carbonation, an average weight, and a below average viscosity, which all makes this a pretty easy going, easy drinking beer, despite a fairly strong alcoholic strength. This beer finishes very dry with a nice and crisp linger that is somewhat refreshing, but not without its own bite which makes this still slightly better suited for the colder months. This is a smooth, yet lighter and airy feeling beer which drinks like a much smaller beverage. This beer doesn't have any alcohol warming despite an elevated content.
Taste
As a hopped up and extremely fresh IPA, this beer expectedly starts off quite bitter, but not with the same bite that a normal triple dry hopped for 120 minutes imperial IPA which usually clears the sinuses better than anything with a prescription, and for a change, that's a great thing. These are piney northwestern style hops which give off a bit of soapy and herbal spice notes. This beer is well balanced with a mostly pale malt delivering a fairly sweet secondary. This beer finishes very bitter with a good dryness and a somewhat long lasting linger. This beer has a pretty strong mix of flavors overall, but nothing too overpowering with a very pleasant and solid hop presence.
Our Take
No, this isn't some quadruple hopped, eye watering leviathan which clears the room as soon as its poured. This beer offers an extremely pleasant hoppy experience which is more noted for its delicate floral notes rather than its flavor's strength. Though this is definitely a bitter beer, this is still as pretty well balanced brew with a good amount of complex malty and spice flavors and this beer's aromatic character brings a good deal of secondary notes to the table, outside of a piney hop primary. This is an easy going beer, considering a nearly double digit alcoholic strength, and though this beer doesn't drink quite as easily as a normal IPA, it pretty much would go well in any weather or season. Aside from that, this beer is a unique opportunity to drink a bottled beer that tastes very much like a freshly brewed, freshly supplied beverage that you'd get a brewery pub. More than that, it comes with a heavily advertised, unequivocal expiration date that, according to Stone's website, must be adhere to under all circumstances. That's not to say that this beer, which is a very good one at that, would be unsatisfactory beyond the end date, but you might as well listen to the people who make it, if not for just some added novelty. If you are looking for a big beer without the usual alcohol bite, and a good deal of hoppy flavor without any overpowering bitterness, this is a top choice, or at least it was when it was around. We will have different ratings and reviews on Stone's other Enjoy By IPA's if we notice any real differences. Still, if you do come across one with a new date on it, grab it while you can. Aside from any beer you'd get at an actual
brewery
, this beer's ultra fresh and clean tasting hop heavy bitter flavor profile makes a great accompaniment to stronger flavors, including sharp and acidic hard aged cheeses, smoked
Iberian
meats, BBQ pork, or for a sweet contrast, Toffee-Tastic Girl Scout Cookies.