Top O' The Brew To You!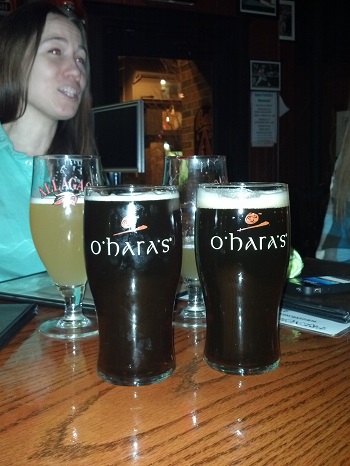 Brewery
and
Country
of Origin:
Carlow Brewing Company
of
Muine Bheag Business Park, Royal Oak Road, Bagenalstown, Co. Carlow, Ireland
Date Reviewed: 3-21-13
This past Sunday was
St. Paddy's Day
, and you all know what that means... recovery time. Some say that the best way to get over the morning after blues is a healthy breakfast with juice, fruit, granola, and plenty of love, tree hugging, manatee saving, instagram posting, and happiness. Personally, we think it's beer. And what better way to treat your post
Irish
Spring sickness than more irish beer? Why certainly my good man (or woman), especially when it's brewed in ye old Eire, the old Free State. This is an
Irish Red Ale
a style which, depending on who you ask, may not actually exist. We know it does, but we also know that this is an oft disputed issue in
UK
pubs. We happen to love a good Irish red, a style which offers a generally sweeter, maltier, and slightly darker colored than a comparable
English
bitter keg ale. And we'll admit, the two styles share quite a big list of similarities. Both offer a dry finish; both are clear with a medium density foam head; both are well balanced between malts and hops; both are top fermented, usually filtered, and are mostly medium to light bodied. The Irish are a proud people who are proud of their beer. The English, being the former rulers of the world long after the
Romans
gave everything up, decided a while ago that they invented everything and modern man wouldn't be where he is today without their ingenuity. That whole statement is up for discussion during another "review" (Yes, at this point, we realize that these things tend to go on a bit while writing these things, but we're all about providing information
as well as
entertainment. It keeps you coming back, yea?). Anyway, so the Irish are going to argue to the end that their beloved red ale is different from the British amber/red. The British keg ambers has been around since the late seventeenth century. It's going to inspire variants from time to time. To us, it makes no real difference who you ask, because we like them all the same... though yes, they are two entirely different styles. And
that
is the end
of that... though it isn't really. Whatever.
Date Sampled: 3-15-13 At: The Olde Magoun's Saloon, 518 Medford St, Somerville, MA 02145, USA
Beer Style
:
Irish Red
Alcohol by Volume: 4.30%
Serving Type: Keg, 20 oz Pint Glass
Rating: 3.86
Look
This red ale has a somewhat smooth pour with a low to medium amount of carbonation action, producting a heavy, dense, three quarters inch tall foam head with a creamy texture, and an average retention. There is full lacing on the glass. This beer contains no visible sediment, producing a nice shine with a deep red color which is hard to see in a dark pub.
Aroma
This beer has a moderately strong aroma characterized with a general malty sweetness. Some roasted coffee and nutty notes are present, as well as a bit of chocolate secondary. The sweetness is augmented with a toffee aroma. This beer's aroma contains no alcohol, fruit, or hoppy notes.
Feel
O'Hara's Irish Red has a medium full body with a high weight, an average viscosity, and an elevated level of carbonation. This brew is a sipper; nothing that should be consumed quickly. With a relatively low alcohol content of 4.30%, this beer is cool with a slightly dry finish. This beer is also pretty smooth throughout.
Taste
This brew has a strong dark roasted malty flavor with espresso and strong dark sweeter chocolate notes dominating the palate. This is supplemented with some toffee and nutty notes, as evidenced by the aroma. There are some sweet biscuity/bread flavors as well. This beer's flavor is somewhat unbalanced as it contains no noticeable amount of hops, and the bitter aftertaste is attributed to the trail of dark roasted malt. No real amounts of fruit or alcohol are detectable.
Our Take
Whether you think of this beer as a British style or Irish style, all that matters is that
Carlow
, which is
Irish
, has made quite an excellent beer. This Irish Red is very bold, full of malty dark roasted flavors which will satisfy anyone looking for a robust sweeter beer with a substantial presence. This beer features the aroma and appearance of a proper Irish pint as well, especially when poured into the correct pint glass. To us, this beer went very well with the kielbasa truffle macaroni and cheese that we ordered at the pub. Cool place, by the way. Still, this beer was somewhat lacking in strength with a lowly 4.30% ABV, yet packaged in a pretty fully bodied parcel with a high weight. This beer's lack of any real hoppy notes and character was also a weaker point, but anyone looking for a strictly malty experience is going to fall in love with this
IRISH, NOT BRITISH, BUT IRISH
style of beer.