Olympic Dreams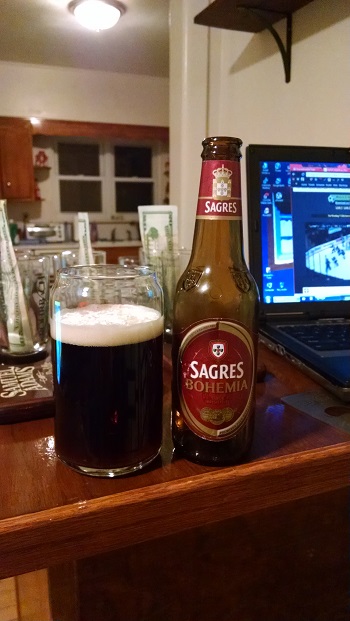 Brewery
and
Country
of Origin:
Sociedade Central de Cervejas e Bebidas, S.A.
of
Apartado 15, Vialonga, 2626-851, Portugal
Date Reviewed: 1-11-15
It was announced just recently that city of Boston would be the
United States'
bid to host the 2024 Summer Olympics. The city competed against other major metropolitan areas like San Diego, Washington, D.C., and San Diego. In order for Boston to be selected at the IOC meeting in 2017, it will have to beat out other potential venues, including
Berlin
,
Paris
,
Nairobi
,
St. Petersburg
, and
Copenhagen
among others. Every US city's bid did of course, come with its own share of controversy, but Boston specifically is a particular choice due to many reasons. A lack of usable land, a reputation for heavy traffic, an out of date transportation infrastructure, and budget concerns are the primary reasons why many Bostonians have already begun to protest the decision to select Beantown as the US Bid. Still, as Bostonians ourselves, it is pretty cool to think that one day, we could be hosts of
the world
's biggest event. As of late, the
Olympic and Paralympic Games
have garnered a negative reputation for being plagued by
budget overruns, inadequate preparedness
, and focusing too much on the glorification of an economy rather than of culture and sport. Still, with an projected budget of a relatively meager $4.5 Billion, Boston could be a return to the purpose, the roots of the Olympics: to celebrate the nations of the world coming together on one stage, and of course, showcasing the pinnacle of human athleticism. Some cities, however, abandon their plans to bid to host the Olympics.
Tokyo
, which hosted the 1964 Olympic Games, will be only the fifth city to host the Olympics twice when they take place in 2020 (
Rio
, which hosted last year's World Cup Tournament, is hosting 2016). And
Lisbon
was one of the cities that had pulled their potential bid for the 2020 Games. Lisbon is the capital and largest city in the country, and with an estimated 1.75 million visitors annually, the city is the 7th most popular Southern European city among tourists. The city is recognized as a
Global City
because of its prominence in continental finance, trade, tourism, arts, and entertainment. However, due to economic reasons related to the European recession, Lisbon pulled their bid. And depending on how Rio goes, it may be a while before a country such as Portugal and the remaining PIIGS countires (along with any other country with a marginally less than ideal economic situation) gets selected to host the games. Maybe the problem isn't with the weak economy. Perhaps the only reason that
Greece
will probably be the last southern Europe Summer Games for a while is because of the Med's rather weak beer scene. Portugal, Spain, and Italy are more wine and meat venues, where as Boston and Berlin are, well... not.
Date Sampled: 11-14-14 At: 7 Priscilla Road, Brighton, Boston, MA 02135, USA
Beer Style
:
Euro Dark Lager
Alcohol by Volume: 6.20%
Serving Type: 330 ml Bottle, 16 oz Beer Can Glass
Rating: 2.86
Look
Sagres Bohemia pours smoothly with a medium low amount of carbonation action, producing an above average density, three quarters inch tall foam head with a somewhat creamy texture, a medium low retention, and a tan color. This beer has a clear and filtered appearance with a dark copper color with a fairly bright shine and a brilliant copper glow. There is no visible sediment with an average amount of effervescent effect with no settling. This beer displays an average amount of lacing.
Aroma
This dark lager has a medium strength aroma overall, characterized by some dull medium roasted caramel malt which comes equipped with a grainy, cereal like secondary. This beer's aroma has some biscuity undertones and some yeast derived sweet banana and fruity notes. A very small of dull and weak hops are somewhat detectable, and this beer's aroma contains no alcohol or metallic tinges. Overall, this beer's aroma is somewhat sweet and slightly nutty.
Feel
This is a medium light bodied brew with a general cooling effect, a medium viscosity, and an average weight. This beer finishes somewhat wet with a dull linger. This beer contains no alcohol bite and only a very small amount of alcohol induced warming toward the close. This beer has an above average amount of carbonation, is somewhat easy to drink, and smooth overall with no texture. This beer's average presence makes it good for fall weather.
Taste
Immediately present is a fairly prominent caramel and biscuity flavor with a good amount of sweet roasted malt. This beer's flavor profile is fairly unbalanced without any presence of hoppy notes. This beer contains some sweet yeast banana and fruit notes and a good amount of grassy cereal like notes with a nutty undertone. This beer has a lingering malty aftertaste. This beer contains no alcohol or metallic tastes.
Our Take
Coming from a country that places a greater emphasis on wine than beer, Sagres Bohemia is actually a decent offering which delivers a fairly understated presence, and an overall malty flavor profile. This beer is a casual drinking beer which goes down easy and can be consumed in larger volumes if the social engagement deems appropriate. To be fair, there are plenty of American dark lagers that would be cheaper, more readily available, and better tasting than this, but there is a hint of novelty in enjoying a beer from a country not really known for producing any. This beer's rather unbalanced flavor makes it less than a universal pairing, though it would probably go well with some medium intensity/acidity cheese, cream sauce based pasta dishes, smoked or cured ham based meats, or semi-sweet fruit. In general, this isn't a beer we'd push to you if you were interested in a dark lager from Iberia, however, there really aren't many we can, so take it as you will, for novelty's sake.