"Autumn is a Second Spring When Every Leaf is a Flower."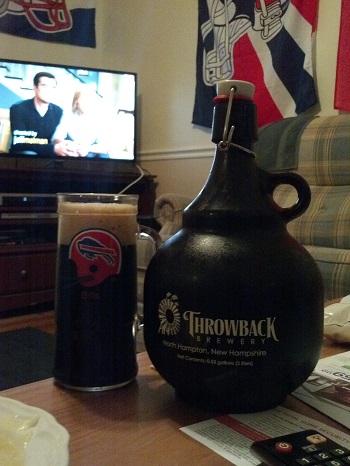 Brewery
and
Country
of Origin:
Throwback Brewery
of
Throwback Brewery, Warehouse Unit #3, 121 Lafayette Road, North Hampton, NH, 03862, USA
Date Reviewed: 10-08-13
About one year ago, we reviewed
Sierra Nevada
's
Tumbler Autumn Brown
, a
brown ale
which, in our minds, celebrates the glory of the fall season. Back then, we discussed the wondrous beauty of fall foliage. We also reviewed
Sam Adams
' recent
Maple Pecan Porter
, and went on about the maple tree and maple syrup. There was also
Rogue
's maple bacon
Voodoo Doughnut
, and
Harpoon
's 100 Barrel Series
Catamount Maple Wheat Session Ale
. So understandably, you'd think that by this point, we'd gotten sick of maple flavored beer. But we're only getting started. And if there's any seasonal food and beer worth mentioning, it's what comes in autumn. By far and away, the fall is our favorite season. Aside from having (in our humble opinions) the best seasonal food and beer offerings, it marks the beginning of
football
and hockey season. It has some of the best holidays (including of course,
Thanksgiving
). Regular tv series begin new seasons. Cross country (for you
nerdy runners out there
) is back, and of course, the weather that makes running the most enjoyable. Not to mention the foliage mentioned earlier, as well as the
MLB playoffs
. So yes, we're fans of autumn. And because the weather is getting cooler, heavier, maltier, and darker colored beers are going to start replacing the lighter, more crisp and refreshing
summer ales
. And of course, one of those such
styles
is the lovable, trustworthy,
English
bred
porter
, which happens to be a style we're quite fond of. And that brings us to
Throwback Brewery
, who has made a maple flavored porter infused with wheat. In a way this is similar to the Harpoon Catamount Maple Wheat. Oh wait, Halloween! Another reason why Fall is the best season by far. Where were we again?
Date Sampled: 8-10-13 At: Throwback Brewery, Warehouse Unit #3, 121 Lafayette Road, North Hampton, NH, 03862, USA
Beer Style
:
American Porter
Alcohol by Volume: 5.80%
Serving Type: Brewery Growler, 20 oz Mug Glass
Rating: 3.94
Look
The Maple Kissed Wheat Porter pours smoothly with moderately low amounts of carbonation action, giving this beer a three quarters inch tall foam head with a low retention and an average density. This beer displays moderate lacing. This porter has a hazy appearance with the inclusion of some very fine sediment with an opaque quality without bright light. This beer has a dark brown color, no shine, and a very dull glow when held up to the sun.
Aroma
This beer has a medium high strength aroma with a big amount of dark semisweet chocolate malt and some immediately present strong coffee espresso secondary roasted notes. There are also some biscuity and nutty aromas to be noted, but no trace of any hops, fruity notes, or alcohol.
Feel
This is a medium full bodied brew with a good amount of viscosity, a medium weight, and a dull, lingering finish that has some dry character. This is an easy to drink beer with a smooth overall feel, and an average amount of carbonation. This beer offers no alcohol induced warming, and no real refreshment or crispness.
Taste
As expected with any porter, this beer is full of dark, rich coffee and semisweet dark chocolate malty notes delivering a good deal of sweetness and some bitterness. This beer has a medium high strength roasted and burnt malty profile with a good amount of nutty and sweet bread or biscuity like note. This beer has no fruity notes, and finishes slightly bitter with a somewhat dry lingering finish. There is no alcohol tinge and no distinct hoppy flavor.
Our Take
Though this beer explicitly broadcasts its inclusion of wheat, you don't really get the typical banana, fruity, or clove notes that you'd expect. Still, this beer delivers quite the roasted malty experience that any porter fan demands. This is also a smooth, fairly thick beer with a good amount of substance, which does in fact make it appropriate for more colder weather, but that's good considering we're beginning to see some finally. And while very low to almost no amount of maple flavor was detected, that (along with the absense of wheat notes) does little to detract from this porter being a good, rich, malty, and robust porter that'll go with any real meat based hearty meal and a cool fall afternoon.